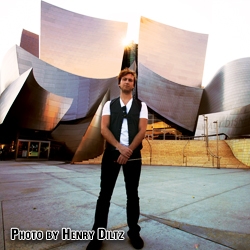 Los Angeles, CA, October 21, 2013 --(
PR.com
)--
www.kickstarter.com/projects/lennonleppert/a-new-kind-of-love-story-an-orch-rock-album
With a Kickstarter Campaign ending Nov 30, 2013, Lennon Leppert of Los Angeles, CA, is seeking funding for his upcoming album, "A New Kind of Love Story." The album features a sound Leppert has developed called: "Orch/Rock" -- a genre that combines organic, original orchestral compositions with the modern sounds of Adult Contemporary/Top 40 Rock. Think: John Williams/Danny Elfman meets The Killers, Green Day and Angels & Airwaves.
This Music is different. In other collaborations between these two styles, there is always one that stands higher than the other. Either it's a rock song that has a string section or it's an orchestral piece that has an electric guitar and drum-set featured. Leppert mixes the two seamlessly with no break between the styles. One is not backing the other. They both stand on their own feet equally and blend together as if they are one.
Lyrically, Leppert considers it very important to convey a positive and encouraging message to listeners in a musically-pleasing fashion, so his album "A New Kind of Love Story," offers lyrics of a high social value, communicating a positive and uplifting message to listeners of all ages, throughout the entire album.
From Lennon himself:
"The first technique I use to differentiate Orch/Rock from what you hear now with rock bands having string or horn sections playing with them, is that those string and horn parts are written as backing to the band. My arrangements feature parts that are meant to stand on their own, meaning that you could 'mute' the band parts and have an album standing on its own orchestral feet, and vice versa.
"My experience with writing as both a composer of orchestral music and a songwriter of pop songs has made me realize that there is a very large void where I see an opportunity to link two great styles of music together. Since I was trained as a classical musician but also raised to appreciate current popular music as well, I come at this task with equal weight from both genres.
"I am confident that I am uniquely qualified to make this sound a reality. All I need is your financial help and together we will bring a new musical experience to the world.
Thank you so much for your support! I of course could never do this without each and every one of you!!"
Because recording with a symphony orchestra is very expensive, Lennon is seeking funding through a Kickstarter Campaign at at
http://www.kickstarter.com/projects/lennonleppert/a-new-kind-of-love-story-an-orch-rock-album
, with a video presentation providing more detail. Please contribute whatever you can to this worthy cause, before Nov 30, 2013. Your contribution will not be processed unless/until Lennon reaches his total goal.