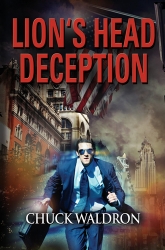 Washington, DC, October 24, 2013 --(
PR.com
)-- "In the United States, our right to privacy is considered sacrosanct," says author,
Chuck Waldron
. "Following 9/11, citizens were prepared to sacrifice privacy for protection but clearly it went too far and we're only now realizing exactly how far."
Snowden revealed the extent of the government's access to phone call data made by customers of Verizon and other cell-phone providers both within the US and between the US and other countries, like France. In discussions with journalists prior to the release of the information, Snowden warned journalists that their safety was at risk.
Waldron's latest title, "
Lion's Head Deception
," imitates non-fiction in light of the Snowden revelations and conspiracy theories surrounding the 9/11 attacks.
"The theme of the book taps into this important discussion," says Waldron, "on how much privacy we should surrender if it does in fact allow for our safety. However, there will always be a question as to whether or not governments take advantage of this fear, and use their powers to invade privacy beyond this objective."
In Lion's Head Deception, a whistleblower sounds the alarm about a government plan to generate widespread social unrest. As a result, citizens, desiring peace and safety at any price, would unwittingly invite the government into their lives at a disconcerting level. When the whistleblower is found dead, Matt Tremain, a freelance blogger has to decide whether or not to publish the story and risk his own life.
While the story has been described as "scarily believable" by readers, Waldron says he hopes the story is not prophetic, and that more people start to wake up to the reality that our lives are probably not as private as we think, whether it is monitoring by governments or corporations.
Waldron is the author of three other titles: "Served Cold," "Tears in the Dust" and "Remington" and the Mysterious Fedora plus thirty plus short stories. He is a senior member of the Association of Independent Authors, and President of the Treasure Coast (Florida) Chapter.
About Chuck Waldron
Chuck Waldron's first novel, "Tears in the Dust," is a mystery set against the backdrop of the Spanish Civil War in 1937. When Alec Ferguson volunteers to fight as a loyalist in the International Brigade he doesn't realize the true price he will have to pay.
The second novel from Waldron, Remington and the Mysterious Fedora tells the story of a young man who, when sitting at his typewriter wearing a fedora, has stories whispered to him by the mysterious hat.
Waldron is currently writing the sequel to his third novel, "Served Cold," which spans several decades, and stretches from the countryside of rural Ontario to a quiet artists' studio in Tucson, Arizona. A long-standing feud erupts between two families leading to vengeance.
With literary roots planted in the American Midwest then transplanted to the rich, cultural soil of Ontario before settling on Florida's Treasure Coast, Waldron has an ample supply of inspiration to feed his writing for years to come. He enjoys summers in Ontario and winter in Florida with his wife, Suzanne.
When he is not writing, Waldron volunteers with Save the Chimps, the world's largest chimpanzee rescue sanctuary.
About the Association of Independent Authors
The Association of Independent Authors (AiA) is a global membership organization representing, advancing, supporting and encouraging self-published (independent) authors. Its membership spans five continents with directors based in the USA, Asia, Australia, and South Africa.
The AiA has also published a compilation eBook with articles from more than eighty experts in their field.
Self-Publishing. Publish Your Book and Avoid the Pitfalls with Advice from Leading Experts and Experienced Authors [Kindle Edition]
ASIN: B008AG4GPQ
Publisher: Association of Independent Authors
1st edition (June 10, 2012)
Print Length: 288 pages
Sold by: Amazon Digital Services
Language: English
Price: USD4.99