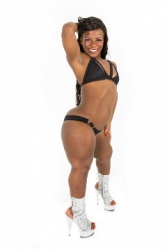 Orlando, FL, October 30, 2013 --(
PR.com
)-- Orlando based entertainment and talent company Guerilla Pink, LLC today announced their partnership with entertainer Fantasy A.K.A. "Small World," as they prepare to document Fantasy's unique life as well as her entertaining lifestyle. The documentary "The Small World Project" will be available on Netflix and OnDemand in early 2014. The documentary will follow Fantasy's life as she travels the world performing at gentlemen's clubs, making appearances, living everyday life and handling business as a small person at just 4'2.
Guerila Pink immediately recognized Fantasy's talent and appeal and knew the world would embrace her story, "Fantasy is the full package entertainer who enamors crowds everywhere and has never let her stature get in her way. We really feel the world will embrace her and identify with her. Fantasy's story takes the viewer behind the scene of gentlemen's clubs and depicts her life within that," stated Guerila Pink President and CEO R. "Keko" Payne, "It's a fascinating life."
Proving her talent is real, Fantasy has been entertaining and performing amongst the best in the business at such powerhouse clubs as Miami's King of Diamonds and Washington, DC's the Office. Fantasy's work ethic is one of the best in the business and her passion for entertaining has gained her fans across all walks of life spanning the globe. "I'm excited and so grateful that Guerila Pink has provided me with this platform to share my life, as unique as it may be," explained Fantasy A.K.A "Small World."
Fantasy is currently on tour performing and making appearances within and outside the U.S. with upcoming dates in Atlantic City, NJ, Washington, DC, Honolulu, HI, The Caribbean and Tokyo, Japan. Her next upcoming tour date will be at Sues Rondevu in Mt. Vernon New York on November 16th.
To view the uncut trailer from the upcoming documentary, to be released later this year go to:
http://www.iamsmallworld.com/videosandphotos.html
About Fantasy A.K.A. "Small World": Fantasy, is a full package entertainer at just 4'2 that holds her own on stage. She lights up a room with her smile, sexy physique and a personality to match all of it. She has never let her size be a factor in any dream she chased. Because of that, and her phenomenal work ethic she is living her dream and inviting the rest of the world to watch.
About Guerila Pink:
Guerila Pink is an Orlando based talent management group representing entertainers throughout the U.S.
For more information about Guerila Pink or their services contact Guerila Pink: 8815 Conroy Windermere Rd., Ste. #208 Orlando, Florida 32835
www.guerilapink.com