Award-Winning Short Film at the Indie Fest
Frank V.V. Boss Jr of Untamed Imagination Productions, has won a prestigious Award of Merit (Notable artistic and technical productions) from The Indie Fest. Produced by Untamed Imaginations Productions in association with Seacoast Multimedia in San Diego, CA.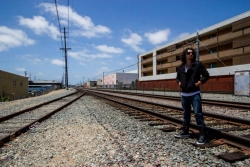 San Diego, CA, November 05, 2013 --(
PR.com
)-- Frank V.V. Boss Jr of Untamed Imagination Productions, has won a prestigious Award of Merit from The Indie Fest. The award was given for Frank Boss Jr's exciting music video "Feels Good."
"Feels Good" is a song of love and the simple life. Its setting is of college living and of young people enjoying what they have and having fun getting a little bit crazy and features an exceptional music artist "Cassanova" and local acting talent Nina Courlea, Bryan Boettcher and Matthew Carothers. Filmed entirely in San Diego, CA this music video used stunning creative visuals and a unique sound not typically seen or heard of in the Hip Hop scene.
"Feels Good" was created as a more preppy style Hip Hop music video about a bunch of college kids having fun and enjoying life while on campus and the main character, a guy, "The Artist," singing about a girl that he likes but is not confident enough to approach her. The girl is "The Girl Next Door Type," but there's something about her he likes.
Director Statement:
"This is my first full scale music video and my biggest production to date. I had begun this project as a continuation of my film career starting with short films & promotional videos to making music videos. I wanted to expand my experience and film education to a more significant feature or narrative short into the style of this video. It is also the culmination and efforts of a lot of good talented people I met over the past several months who offered to help so that we could all enjoy and learn from this experience."
Executive Producers Statement:
"I certainly appreciate the recognition from Indie Fest. I feel that it is important for every producer and creative team to submit their works to a group of their peers. It is a great way to receive qualified feed back as well as continued encouragement. The Indie Fest provides such a venue and recognizes achievements of new and exciting productions."
The Indie Fest recognizes film professionals who demonstrate exceptional achievement in craft and creativity, and those who produce standout entertainment or contribute to profound social change. Entries are judged by highly qualified professionals in the film industry. Information about The Indie Fest and the list of winners can be found at www.theindiefest.com.
In winning an Indie, Untamed Imagination Productions and Seacoast Multimedia join the ranks of other high-profile winners of this internationally respected award. Thomas Baker, Ph.D., who chairs the Indie Fest, had this to say about the latest winners, "The Indie is not an easy award to win. Entries are received from around the world. The Indie helps set the standard for craft and creativity. The judges were pleased with the exceptionally high quality of entries. The goal of The Indie is to help winners achieve the recognition they deserve."
For more information call Mike Nacar, 619-297-6113 or visit www.seacoastvideo.com.
Contact
Untamed Imagination Productions
Frank V.V. Boss Jr
619 415 7110
www.vftla.org/veteran/frank-boss-jr#.UnVgUBBliYc
www.linkedin.com/pub/frank-v-v-boss-jr/b/672/683/

Contact
Multimedia
This is a more detailed synopsis of the production including directors statements