Sintex-Wausaukee Composites Inc Wins 2013 AGCO Supplier Quality Award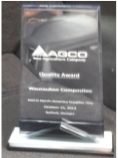 Wausaukee, WI, November 05, 2013 --(
PR.com
)-- Sintex-Wausaukee Composites Inc., a leading supplier of composite components for "Original Equipment Manufacturer" (OEMs) announces the receipt of the 2013 AGCO Supplier Quality Award. The award is presented each year by AGCO Corporation. One of the world's leading producers of tractors and agricultural equipment.
The award recognizes Sintex-Wausaukee for outstanding quality in the supply of Fiber Reinforced Composites components to AGCO facilities worldwide. AGCO evaluates its suppliers' quality, logistics, customer service and protection of the environment and recognizes those suppliers whose performance meets or exceeds these criteria.
SWC CEO Edward Trueman commented, "SWC is honored to have earned this prestigious award from our valued partner. I am very pleased to see that Sintex Wausaukee's efforts to provide the best quality FRP products to our target OEMs has been recognized at such a high level. We are driven to provide the best products to meet our customers' demanding performance specifications. This award shows that a solid commitment to quality and extraordinary composite engineering and design leads to innovative solutions and the highest value for our customers. We look forward to continuing this rewarding relationship with AGCO and to continuing our quest to produce the highest quality FRP components in the industry."
Sintex-Wausaukee Composites (SWC) is a leading manufacturer of highly engineered fiber reinforced composite components for Original Equipment Manufacturer (OEM) in the Industrial, Agricultural Truck and Tractor, Mass Transit, Medical Imaging, Commercial Furnishings, Therapeutic Systems, Recreation, and Corrosion-Resistant Materials Handling industries. SWC is an ISO 9001:2008 certified company offering Six-Sigma design, tooling, prototype development, product manufacture, and value-added secondary assembly and services. SWC has manufacturing facilities in Wisconsin and Michigan.
AGCO Corporation (NYSE: AGCO) is a global leader focused on the design, manufacture and distribution of agricultural machinery. AGCO supports more productive farming through a full line of tractors, combines, hay tools, sprayers, forage equipment, tillage, implements, grain storage and protein production systems, as well as related replacement parts. AGCO products are sold through five core machinery brands, Challenger®, Fendt®, Massey Ferguson®, Valtra® and GSI®, and are distributed globally through 3,150 independent dealers and distributors in more than 140 countries worldwide. Retail financing is available through AGCO Finance for qualified purchasers. Founded in 1990, AGCO is headquartered in Duluth, Georgia, USA. In 2012, AGCO had net sales of $10B. For more information, see http://www.agcocorp.com - Source: AGCO.
Contact: Edward Trueman, President/CEO, 715-856-6321,
etrueman@wauscomp.com
Contact
Sintex-Wausaukee Composite Inc.
Glenn Sandgren
715-856-6321
www.wauscomp.com

Contact