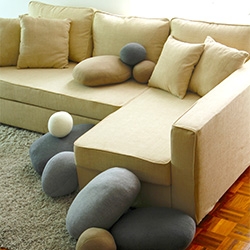 Melbourne, Australia, November 08, 2013 --(
PR.com
)-- Comfort Works built their reputation by 'awesomising' old and tired IKEA sofas with the application of a tailored premium slipcover. Recently added to the already extensive collection of the
old discontinued IKEA slipcovers
are models such as the
Tylosand sofa slipcover
, the Karlanda couch covers, Manstad sofa bed slipcover and the Kramfors sofa replacement leather slipcovers to name a few. Other
replacement IKEA slipcovers
include the Nikkala 3 seater sofa, Mysinge sofa as well as the Tomelilla sofa -- models that can't be found in IKEA stores nor anywhere else in the world anymore.
"After 3-5 years, most sofas will start to show its age, but the problem with IKEA sofas is that they keep discontinuing their models and replacing them with new series," shared Henry, one of the founder of Comfort Works. Normally 6 months after an IKEA sofa has been discontinued, IKEA will stop supplying slipcovers for them. This is also partly why Comfort Works started doing this segment of IKEA sofa slipcover; it's because a dear friend requested for a cover for her 6 year old Klippan 4 seater sofa that had seen better days. The challenge though, is to get a beautiful and tailored slipcover that display quality and allows the furniture to look premium at an inexpensive price.
Founders Rachel and Henry believe that it was actually much more than just giving sofas a facelift -- it actually gives the couch a second life, a chance to live again.
One of the founders Henry commented, "What we're trying to do is essentially give our customers the same feeling they got when they first purchased their couch. Rejuvenation? Restoration? I don't know - It's a warm fuzzy feeling mostly." The much more eloquent and outspoken partner of Henry's, both in business and in life, Rachel added, "I guess we can simply say that it is just: 'Love at Second Sight'."
About Comfort Works:
Based in Melbourne, Australia; Comfort Works was started by Henry and Rachel, an Australian and a Malaysian, initially wanting to provide an affordable alternative to the custom made window furnishings, they then progressed into making custom furniture slipcovers and sofa covers. Comfort Works also provides 8 complimentary fabric samples and free worldwide shipping; The actual products will be sewn and delivered within 2-3 weeks.