Medimpex United, Inc. Now an Official Member of the American Staffing Association
Company to introduce expanded line of Xalex brand drug test kits at Staffing World 2007 October 9-12 in San Antonio, TX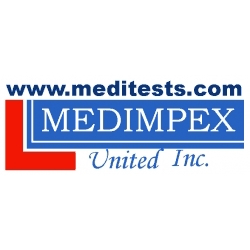 Bensalem, PA, September 18, 2007 --(
PR.com
)-- Medimpex United, Inc. is announcing its new membership with The American Staffing Association. The medical testing company plans to unveil its expanded line of
Xalex brand drug testing kits
at this year's Staffing World convention and vows to offer only the highest quality products, services and industry information to all ASA members.
Medimpex United, Inc. is now officially a professional member of the American Staffing Association as of August 2007. The American Staffing Association, or ASA, was founded in 1966 and is dedicated to promoting a wide range of employment related services including legal advocacy, education and public relations. The organization is also dedicated to establishing high standards of legal and ethical practices within the staffing industry. Medimpex United, Inc. vows as a new member to bring all ASA members the highest quality and variety of testing products, services and information available within the medical testing industry.
The ASA will be hosting their annual Staffing World convention and expo in San Antonio, Texas October 9 - 12, 2007, which offers a chance for attending ASA members to network and gain valuable professional business and industry advice. Medimpex United, Inc. is registered to attend and is just one of many ASA members scheduled to arrive at the convention. Staffing World 2007 will have more than 165 exhibits and 40 staffing industry workshops. The various workshops are specifically designed for different professional sectors within the staffing industry. This year's convention also boasts several internationally well-known speakers.
Medimpex plans to unveil their new and expanded line of available Xalex Drug Testing Products at the ASA Staffing World 2007 convention this October. Medimpex United, Inc. is now dedicated to bringing ASA members the highest possible quality products, services and testing industry information available to date. Medimpex United, Inc. continues to expand their line of Xalex brand products and services to meet growing industry demands and to ensure the highest level of technical quality available on the market today.
Xalex Drug Testing Products are already known within the industry to be some of the highest quality medical testing products currently available. Even though the Xalex brand is already known to be of high quality, Medimpex United, Inc. continues to look for ways to go above and beyond expected industry standards to continually improve quality, all while keeping in touch with the latest available technology. The company is dedicated to continual quality improvement, excellent customer service and the expansion of their product and service line to keep up with industry needs and growing technology.
About Medimpex United, Inc.:
Medimpex United, Inc. has been in business since 1999 and is a medical testing company that offers a wide variety of state of the art testing products such as early pregnancy tests,
drug testing kits
, steroid testing and forensic test kits. This includes their Xalex Drug Testing product line. The company also offers lab services, medical devices, up-to-date industry information, and any related advice and suggestions your business may need.
If you would like more information about this topic or would like to schedule an interview, please contact Medimpex United, Inc. at 1-866-848-TEST (8378) or info@meditests.com.
###
Contact
Medimpex United Inc
Alex Vulfov
215-245-4477
www.meditests.com

Contact