Guinness World Record Holding Paraiba Tourmaline Necklace Unveiled by Kaufmann De Suisse
Extreme Luxury Jewel Unveiled: The "Paraiba Star of the Ocean Jewels" Necklace, designed by Moneca Kaufmann of Kaufmann de Suisse, features the rare "The Ethereal Carolina Divine Paraiba," a majestic and flawless 191.87 carats gem.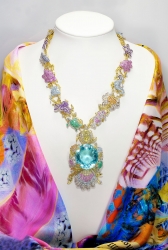 Palm Beach, FL, November 13, 2013 --(
PR.com
)-- The entrance on the market of an extremely rare and perfect natural treasure presenting a combination of outstanding characteristics is causing a huge stir amongst top art and jewellery collectors worldwide. The quality and size of this striking and rare gem, combined with the internationally renowned jewellery design imprimatur of the house of Kaufmann de Suisse, make this piece highly coveted.
The Ethereal Carolina Divine Paraiba, a majestic and flawless gem, is 191.87 carats of exceptional optical transparency (measuring 36.44 x 33.75 x 21.85 mm), shattering the previous Guinness World Records holder with its mass of just under 51.77 carats. The largest cut Paraiba tourmaline is a modified brilliant cut oval shaped gem, is a testament to over 4.5 billion years of Earth history, is a natural treasure of supreme historical importance.
This extremely rare precious stone is part of the Planetary Collection held by Vincent Boucher, CEO of Billionaire Business Enterprises, Inc. The stone has been placed by experts in the field on a very short list of the world's most famous gems in history, along with: the Logan Sapphire, the Hope Diamond, the Golden Jubilee, the Alan Caplan Ruby, and the Cullinan Diamond.
Named "Paraiba Star of the Ocean Jewels", this one-of-a-kind necklace is resplendent with ocean life. Designed by Moneca Kaufmann, president of Kaufmann de Suisse, the elaborate composition is a celebration of the unfathomable grand design and interdependent nature of the planet. The necklace includes 1,706 gems, including multi-color precious and semi-precious gemstones along with a spectacular 10.73 cts. fancy color yellow diamond, bringing focus to the transparent blue of the Ethereal Carolina Divine Paraiba, the ultimate representation of our life-giving blue seas.
The spectacular necklace featuring the Guinness World Record holding gemstone will be on display at Kaufmann de Suisse jewelers in Palm Beach, FL from December 14 – 24. Details on the auction of this necklace will be announced in 2014.
Kaufmann de Suisse is a five time winner of the coveted Diamond International Award, Kaufmann de Suisse caters to the discriminating international connoisseurs of traditionally crafted, hand-made sumptuous jewels. With boutiques in Montreal, and Palm Beach, Kaufmann de Suisse is renowned the world over for its signature Flowing Lines design since 1954.
For more information: Moneca Kaufmann, President – (561) 832-4918 /
moneca@kaufmanndesuisse.com
References:
1) - http://www.guinnessworldrecords.com/world-records/6000/largest-cut-paraiba-tourmaline
2) - http://www.kaufmanndesuisse.com
3) - http://www.gia.edu/gia-news-research-tourmaline-bibliography
4) - http://www.billionaire.tv/TheGazette.pdf
Contact: Moneca Kaufmann
(561) 832-4918
Contact
Kaufmann de Suisse Jewelers
Moneca Kaufmann
561-832-4918
www.kaufmanndesuisse.com

Contact