TNS Italy to Give "Payments Industry Outlook" Presentation at Bank of the Future Conference
On the first day of the conference, November 14, the "Payment Services and Money Transfers: Working with Clients" section will feature a talk by Irene Ierardi, Consumer Finance Practice Lead at TNS research company, on consumer behavior trends in the payments sector and a thematic review of the topic, focusing on Great Britain.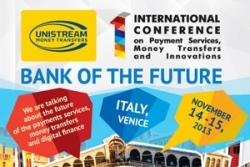 Venice, Italy, November 13, 2013 --(
PR.com
)-- The payments ecosystem continues to evolve, with numerous providers harnessing cutting-edge technologies to create a wide range of payment options for users. The result is the advent of a huge number of new payment brands worldwide.
Today's user has access to a multitude of different payments methods that he or she can use to pay for goods and services, such as cash, debit cards, credit cards, contactless payments, e-money, mobile and social networking applications. New trends, such as the rapid development of a retail model that fuses the virtual and physical environment, the shift in consumer preferences toward convenient, simple, reliable and affordable payments, as well as social and economic changes, such as growing labor migration – all make for new consumer behaviors.
Irene Ierardi, TNS Italia Lead of Consumer Finance Practice will be presenting TNS's latest research findings on active users of smartphones, the Internet, social networks and online shopping in Europe. She will also be talking about consumer trends, focusing on social networking in different countries, taking a look at mobile banking in developed markets and at how increasing migration will affect the money transfers market.
The First Bank of the Future Conference will take place in Venice, Italy, on November 14-15. The Conference is organized by Unistream. Strategic partners: Diasoft and MasterCard Europe. General sponsors: Intervale and Gamma-Center. The Bank of the Future Conference is supported by the Association of Russian Banks and the International Association of Money Transfer Networks.
Contact
UNISTREAM Commercial Bank
Ksenia Chernysheva
+7 (495) 684-43-76
www.unistream.com

Contact