Uniform Advantage Launches Butter-Soft Stretch
Uniform Advantage recently launched the new Butter-Soft Stretch collection, as the latest addition to the distinguished Butter-Soft Scrubs product line. For additional information about Butter-Soft Scrubs and the different styles and colors offered, please visit www.UniformAdvantage.com.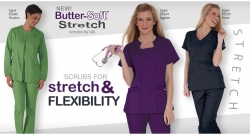 Plantation, FL, November 19, 2013 --(
PR.com
)-- The Uniform Advantage exclusive Butter-Soft Scrubs collection adds the new Butter-Soft Stretch scrubs line to their product offering alongside UA Best Buy, Happy Scrubs, and UA Scrubs.
Butter-Soft Stretch scrubs were designed to bring a new dynamic to the customer favorite Butter-Soft Scrubs by UA product family. The goal of this is new innovative branch of Butter-Soft scrubs is to appeal to those customers who already know and love the renowned Butter-Soft fabric, but also want additional stretch and flexibility from their medical uniforms.
The new Butter-Soft Stretch line is filled with an array of classic and fashion colors including Ceil Blue, Black, White, Navy, Royal, Pewter, Coffee Bean, Wine, Eggplant, Tutu Lilac Pink, and Floradora Green. The color palette was carefully chosen to appeal to customers with employer-set color restrictions in the standard colors, as well as those customers who prefer more fashionable, seasonal uniform color options.
Whereas the fabric composition of the signature Butter-Soft scrubs collection is 65/35 Poly/Cotton, the new Butter-Soft Stretch collection is 57/42/3 Cotton/Poly/Spandex, aiming at combining maximum comfort, ease of movement, and flattering draping. This resilient new line is available in a variety of necklines and styles ranging from short sleeve and ¾ length scrub tops, and scrub jackets to cater to each customer's personal preferences. The new scrub pant offerings come in either drawstring, elastic, or flat front waistbands along with the option for Petite and Tall lengths to provide a greater majority of customers with a tailored fit just for them.
Butter-Soft Stretch Scrubs
are only available at Uniform Advantage, the number one place for scrubs and all of your nursing uniform needs. For more information about Butter-Soft Scrubs and the different styles and colors we offer, please visit www.UniformAdvantage.com.
About Uniform Advantage
Uniform Advantage is a leading retailer of
scrubs
and medical uniforms. Founded in 1985, the company operates out of Plantation, Florida and ships from their distribution center near Atlanta, Georgia. It has grown to include 29 scrubs stores located in key cities across the US and Canada, a catalog division and an entity dedicated to the online market.
For more information and to view their garments, visit the Uniform Advantage web site at http://www.UniformAdvantage.com or call 800-283-8708.
Contact
Uniform Advantage
Lori Nadeau
954-626-2100
www.UniformAdvantage.com
Direct (954) 626-2430

Contact