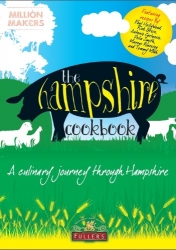 Hampshire, United Kingdom, December 03, 2013 --(
PR.com
)-- The Hampshire Cookbook is the result of an innovative project, designed to raise funds for The Prince's Trust Million Makers Challenge.
Celebrity chef, Tommy Miah, will herald the book's arrival by hosting a Bangla Feast at Kuti's Brasserie in Southampton on Sunday 8 December. Guests at the charity gala banquet will be treated to a mouth-watering menu from the renowned Bangladeshi food specialist's repertoire - including some dishes from the new book.
A team of volunteers from Hampshire-based global relocation company, HCR, created the book to celebrate the county's diverse and rich local produce - and a host of the nation's top cooks and chefs were quick to come forward with recipes.
"We were blessed with the sheer talent of the contributors to the Hampshire Cookbook," said HCR head of marketing and Hampshire Cookbook volunteer, Simon Hood.
"Alongside some quite exquisite recipes from Tommy Miah are offerings from Delia Smith, Rick Stein, Paul Hollywood, Marcus Wareing, Antonio Carluccio, Eric Lanlard and Hampshire's own Simon Rogan.
"We couldn't have asked for a tastier selection to help us celebrate all that is good about Hampshire's food - and the best part is that all of the book's profits will be fed back into The Prince's Trust to help disadvantaged young people in the county and across the UK."
The Prince's Trust Million Makers Challenge is a national competition calling on employees and university students to come together and raise £1 million to help make a difference to the lives of young people across the country.
"The team here would like to thank everyone who helped make The Hampshire Cookbook a reality," added Simon. "From those kindly donating recipes to the local businesses sponsoring the project - and to Kuti's for hosting our launch. The response we've had from those offering their help has been incredible."
For more information about The Hampshire Cookbook - or to book a place at the Bangla Feast charity gala banquet on Sunday 8 December, please visit
https://hcr.co.uk/?page=BanglaGala
or contact Simon Hood on 01256 313741.