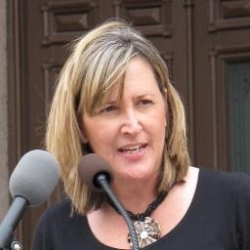 Sulphur Springs, TX, December 05, 2013 --(
PR.com
)-- In a surprise announcement today, TEAParty911.com's founder, Michael Kinzie, announced his personal endorsement of Konni Burton for Texas Senate District 10 in Tarrant County.
Kinzie is known as someone who rarely gives his personal endorsement, reserving it for those candidates who have exhibited the strongest conservative conviction.
Kinzie endorsed Konni saying, "Konni Burton is a proven conservative fighter. Conservatives in Texas should all be rallying behind Konni Burton's campaign. We have an opportunity to actually gain ground in a year that Democrats are attempting a resurgence. I'm excited to join so many of other conservative leaders in supporting Konni's campaign."
Konni Burton has announced a multitude of conservative endorsements, many from tea party and conservative leaders in District 10. Kinzie added his name to a long list of conservatives including State Representative Jonathan Stickland, Tim Lambert and many tea party and 9/12 leaders.
More endorsements are listed here: (http://konniburton.com/2013/08/tea-party-and-912-endorses-konni-burton/)
Kinzie concluded his statement with, "This seat is a must-win for conservatives and Konni Burton is the clear conservative choice. I look forward to campaigning for her this election cycle."
More at:
http://www.teaparty911.com/candidates/konni_burton.htm