MommySavesBig.com Plans Expansion, Mobile App in 2014
Couponing website MommySavesBig.com plans a large expansion in retail storefronts for 2014 and is developing a mobile application to offer more discount options to consumers.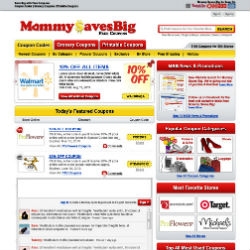 Fort Lauderdale, FL, December 17, 2013 --(
PR.com
)-- Fresh off a highly successful redesign launched in the third quarter of this year, couponing megasite
MommySavesBig.com
has an aggressive schedule to expand its discount programs and consumer offerings in 2014, highlighted by plans for the launch of a new mobile app for online coupons.
The website's new look, which debuted in September, features a highly customized presentation for online coupons that allows for consumer feedback on individual electronic coupons and extensive interaction with social media sites. As a result of the redesign, MommySavesBig.com has seen a rapid increase of traffic to the site's online coupon storefronts and categories.
"On the old site a lot of our traffic was in the grocery coupon categories," says Domenic Teoli, one of the owners of MommySavesBig.com. "Now we're seeing a shift toward the online retail coupons. Overall number of visitors is increasing, and we're seeing a trend toward a younger demographic."
The increase in the number of visitors using online retail coupons has led MommySavesBig.com to plan development for a coupon mobile app that will be deployed in 2014. In addition to the new app, MommySavesBig.com's plans for 2014 include a large increase in the number of retail brands featured in dedicated "store" categories on the site. With the recent addition of brands 21Forever and JC Penney, the site currently features nearly 200 retail stores.
"We're getting two or three requests a day from new vendors looking for placement on the site," says Teoli. "By the end of 2014, we plan to have nearly 1,000 branded stores available for our site visitors."
In addition to the nearly 200 retailer-based coupon storefronts and dozens of popular category options, MommySavesBig.com also features printable grocery coupons, Daily Deals hand-selected by staff, as well as exclusive coupons offered by retailers only through MommySavesBig.
The website is designed and developed by NetSource Technologies, an award-winning web design, hosting, e-commerce and consulting company based in Florida. Visit their web site at www.NetSourceinc.com for more information on their services and to view additional client web sites.
Contact
Netsource Technologies
Matt Foster
(800) 709-3240
www.netsourceinc.com

Contact