New Collapsible Packaging Product is a Game Changer
FCA's Collapsible Utility Box (C.U.B.) is an innovative, yet economical collapsible packaging product that saves customers significant money on freight, storage, set up and take down, and packaging costs. It requires no tools, clips, fasteners or hardware to assemble and is much more economical than other collapsible packaging products on the market.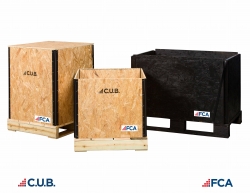 Moline, IL, December 17, 2013 --(
PR.com
)-- FCA, LLC, a provider of custom industrial packaging products and OEM packaging services, announces the launch of a new and patent-pending, collapsible packaging product under the brand name C.U.B. (Collapsible Utility Box). The collapsible box is an innovative and money-saving packaging product that is available in both standard (optimized) and custom sizes.
Jeff Campagna, President of FCA and life-long industrial packaging veteran said "The C.U.B. is a unique collapsible box that addresses a market need for custom collapsible technology, but at an affordable price. Our Patent-pending collapsible technology can bring significant savings to any supply chain including storage costs, freight costs (both inbound and outbound), and labor savings on set up and take down. It is ISPM-15 compliant, is environmentally friendly, and can nearly eliminate a company's spend on product set up. If there is a collapsible box in the industry that is easier to use, and can impact savings across the system more quickly and effectively than the C.U.B., I have not seen it."
"Some collapsible boxes exist currently in the market, but none that are as easy to set up and take down as the C.U.B.," said Mike Thompson, Director of FCA's Packaging Engineering Center. "This box has been designed with ease-of-use in mind, but particularly with the goal of dramatically reducing our customers' freight costs, distribution costs, labor costs, and system costs. Our boxes have been validated in our ISTA-certified packaging lab to ASTM-D4169, Truck Assurance Level 1 standard. Any ship loose parts, custom parts, or other applications that can benefit from collapsible storage should consider the C.U.B. for both ease of use and the packaging savings that go straight to the bottom line."
To request a quote for a standard or collapsible version of FCA's Collapsible Utility Box (C.U.B.) call 1-855-FCA-CUB1 or visit
www.CollapsiblePackaging.com
.
About FCA
FCA supplies a broad range of custom, heavy duty, just-in-time industrial packaging products and services to many of the world's leading OEM's. FCA's unique products include custom engineered skids, crates, pallets, boxes and other unique packaging solutions that protect billions of dollars of valuable customer inventory. FCA supports its packaging products with an array of value added services including design engineering and prototyping, testing, manufacturing, container management and tracking, recycle management and repair/refurbishment.
FCA's complete solution approach is uniquely tailored to manufacturers with highly-customized packaging requirements. Through design engineering services, just-in-time manufacturing, and ongoing tracking and management services, FCA offers a complete and cost-effective solution for the entire enterprise. For additional information visit http://www.fcapackaging.com to learn what FCA can do for your company.
FCA: Custom Packaging Solutions. Designed. Built. Managed.
Contact
FCA, LLC
David Wilsted
309-792-3444
fcapackaging.com

Contact