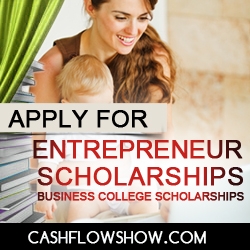 York, PA, January 03, 2014 --(
PR.com
)-- Direct sales educator and home party plan business expert, Deb Bixler has just rolled out the Cash Flow Show business scholarship program. Beginning this year, Deb Bixler and the direct sales website, the Cash Flow Show will offer three $500 entrepreneurial business scholarships to business students and/or entrepreneurs.
The new business scholarship program, like the Cash Flow Show training center, will be dedicated to assisting entrepreneurs and home business owners or those attending business college with financial needs.
Graduating high school students and college freshmen will be considered as well as direct sellers who would like to start their home based business but do not have the necessary kit costs to invest. Applications are being accepted now and awards will be announced for the first business scholarships to be awarded on or before the first day of April, August, and December each year.
If you are a college bound student heading to a business college or a financially needy entrepreneur this business scholarship is an opportunity get started on the path to your goals this year! Designed for those ready to take control of their lives and make a change, the Cash Flow Show business scholarships are an opportunity for work at home direct sellers and college students.
Bixler says that the entrepreneurial business scholarship program is an extension of the services she provides at the site. Every direct seller deserves to have a chance to start their home based business and the scholarship program is a thank you gift to the industry.
Deb, often referred to as the party plan expert is a home party plan - direct sales trainer, coach and educator. As host of the popular Cash Flow Show Radio she brings home based business education around the world. The Cash Flow Show website was recognized in 2013 as one of the top three home party plan blogs in the world and is the largest free party plan training center on the web.
For more information or to apply for the Cash Flow Show - Direct Sales Business Scholarships visit:
http://www.CreateACashFlowShow.com/business-scholarships