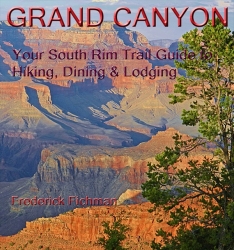 Prescott Valley, AZ, January 06, 2014 --(
PR.com
)-- Just Published. First released in October, 2012, the "Grand Canyon" has now been updated and just released on Amazon Kindle and Barnes&Noble Nook with updated contact information throughout the book. Reservation and contact telephone numbers for most of the lodging at the Grand Canyon have changed and the re-publish of "Grand Canyon" reflects those changes.
Over 5 million people visit the Grand Canyon each year. Stunned silence and awe is usually the first reaction they have as they walk from their first stop, the Visitor Center, and make a short walk to Mather Point along the South Rim Trail. But along that South Rim Trail there is much to see and do. There are fantastic accommodations and wonderful choices for dining. There are many places to buy books, clothing, and reference materials at the numerous shops on the South Rim. Frederick Fichman's "Grand Canyon" is a necessary introduction and tour of all the South Rim Trail has to offer at the Grand Canyon. In both detailed description and stunning photography, this book tour will give you the feeling of actually being there at one of the wonders of the world, the Grand Canyon, Arizona, USA.
The most popular and most visited stops along the South Rim Trail are highlighted in "Grand Canyon." Included are the telephone numbers, web links and other data to help you quickly find the information you need to make your visit to the Grand Canyon a once in a lifetime experience. "Grand Canyon" will become your quick, easy to read eBook guide you will carry with you to The Grand Canyon. It is like having a docent with you in the palm of your hand at the Grand Canyon.
This book "Grand Canyon Walking Tour" is also available as an interactive APP for both the Apple and Android platforms.
"Grand Canyon" is available on Amazon Kindle or by going to:
http://www.amazon.com/Grand-Canyon-National-Parks-ebook/dp/B009R70N6I/ref=sr_1_6?ie=UTF8&qid=1350529834&sr=8-6&keywords=Frederick+fichman
"Grand Canyon" is also available on Barnes&Noble NOOK or by going to:
http://www.barnesandnoble.com/w/grand-canyon-frederick-fichman/1113484323?ean=2940015501940