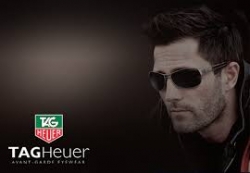 Pasadena, CA, January 11, 2014 --(
PR.com
)-- Linden Optometry P.C. will host a TAG Heuer Eyewear Trunk Show on Saturday, January 11th, 2014 from 9:30 AM to 5:00 PM. There is no charge for admission, and attendees are welcome to try on all of the latest Sunglasses from TAG Heuer. TAG Heuer consultants will be offering free eyewear fashion advice.
Guests are invited to drop their names in the basket for a Drawing, which will be held at 5:00 PM. The winner will take home one pair of TAG Heuer Sunglasses, a retail value up to $300. No purchase is necessary. Winner need not be present. Includes non-prescription sunglass lenses.
Free Refreshments will be served! The event takes place at Linden Optometry, P.C., 477 E. Colorado Blvd, Pasadena 91101. Phone 626-796-1191. Free parking behind the building.
About TAG Heuer:
A legend in Swiss watchmaking, TAG Heuer has built on its active commitment in the sports world to create the most accurate timing instruments and watches in the world. Now, that same quality has been built into TAG Heuer eyewear. Using superior materials and integrated engineering, TAG Heuer's 100% made in France eyewear remains unrivaled in performance and innovation.
About Linden Optometry PC:
Since 1956, Linden Optometry PC has been a one-stop destination for eye care and eye wear for the entire family. With over 10,000 eyeglass frames on display, Eye exams from 15 Doctors of Optometry speaking 10 languages, and over 20,000 contact lenses in stock, Linden Optometry PC truly offers choices for everyone.
Linden Optometry, A Prof. Corp., Alan Limfat, O.D.
477 E. Colorado Blvd, Pasadena CA 91101
Contact: Pat Suarez
Phone: (626) 796-1191
Email: LindenNews@earthlink.net
http://www.lindenoptometry.com