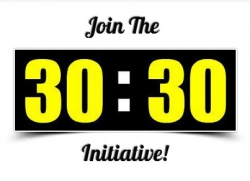 Los Angeles, CA, January 16, 2014 --(
PR.com
)-- Gayquation, an industry-leading matchmaking agency, has launched the 30or30 Initiative (30or30.com) which asks those in the GLBT community to help remove the stereotype and sexual proclivities that predominate the gay culture by promoting abstinence and safe sex.
A recent poll of over 1000 gay men revealed that a staggering 42% have engaged in at least one sexual act while not able to recall their partner's first name. 27% of which claimed numerous instances and have lost count in their lifetime number of sexual partners.
"Our motivation for starting this effort came from our clients and the experiences they shared with our matchmakers," says Benjamin Boyajian, owner and founder of Gayquation. "It was amazing the stories that were told, dating as single gay men. You could hear the frustration and cynicism in their voices, even from men in their 20's. Together we shared the same sentiment 'enough is enough!'. We felt the need to do something, even if it meant a small dent."
The 30or30 Initiative asks those to pledge (in number of days) one of two rules:
1) To abstain from sexual activity for minimally 30 days or
2) To establish a connection with someone for minimally 30 days before introducing intimacy into the relationship.
Gayquation's goal is to reach 1,000,000 days pledged by the end of 2014.
30or30 was founded on a single premise: a global revolution in changing the M4M world and the way that society "defines" the gay culture. Along with leading efforts to promote safe sex throughout the community.
For more information, please visit
www.30or30.com