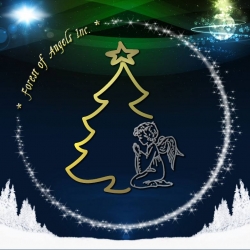 Coconut Creek, FL, January 15, 2014 --(
PR.com
)-- Forest of Angels® is a community organization that partnered with local businesses to raise money for well-known local charities. Local businesses purchased and decorated Christmas trees and competed for votes to see which business had the best decorated tree. Each business selected a charity whose cause they support. The charities have received a donation on behalf of the business that it partnered with for the event.
For the second year of Forest of Angels®, the decorated trees were on display at the Promenade of Coconut Creek for all to enjoy from December 1 to December 22, 2013. Hundreds of shoppers voted and took part in the event that benefits many good organizations that dedicate themselves to helping people live better lives.
Participating businesses and charities were given the results of the contest on Wednesday January 1, 2014.
The winners were announced and the charities have received their prizes on January 10 2014. The first place winner was Jambco Millwork Design Center and their charity, Abi's Place, and received $2000.
Second place winner was Discovery Pre School, and their charity, Bright Horizons Children's Foundation, received $1000.
Third place winner was Fit Bodies Forever and their charity, Yo Fit received $500.
Forest of Angels® will continue with the project and will hold the Forest of Angels® event in 2014. They look forward to even greater participation in 2014.
A word from a few businesses
"As a 2nd year participant with Forest of Angels, we are very happy to support an organization that works so diligently to give back to the local community. Krisztina is fantastic to work with, and we will absolutely be part of another successful 2014!" - Tom Head, Owner "The Wow Factory"
"This is Jambco Millwork's second year with Forest of Angels and we are so grateful to have been a part of this unique opportunity. Thank you Forest of Angels for the making it so simple for us to give back as well as the amazing support you provide to all of the deserving charities... we are looking forward to 2014!" - Jambco Millwork Design Center
"We would like to thank "Forest of Angels", their visitors and all of the Discovery Preschool families for their support. The donation to the "Bright Horizons Foundation for Children" will change the life of so many children who are not as fortunate as ours. Thank You Again!" – Discovery Pre School
"My family and I enjoyed sharing the experience of making ornaments and decorating the Christmas tree for Abi's Place...what a fun way to start the holiday season. This was a great way to share the story of these special needs children! The prize money will do great things for Abi's Place and its amazing students. Forest of Angels is an organization that I loved working with! I am looking forward to next year! Thank you for organizing such a fun family friendly event! A special thank you to Jambco Millwork for giving us the opportunity to participate in the Forest of Angels event, by selecting Abi's Place as their charity to sponsor this year." - Dina Montgomery (for Abi's Place)
More information about the Forest of Angels, Inc. is available on the website http://www.forestofangels.com as well as on Facebook https://www.facebook.com/forestofangelsinc
If you'd like more information about this event, please call 954-621-4158 or e-mail info@forestofangels.com.