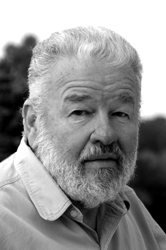 Pittsburgh, PA, September 26, 2007 --(
PR.com
)-- Daniel Morris, former editor/publisher and university professor has published his first work of fiction, spinning an unusual mystery tale.
"Grave Creek Connections" is a mystery set in both Pennsylvania and West Virginia and in fictional George County, a stand-in for Greene County Pennsylvania. Morris said he fictionalized the county so readers would not assume his characters were real people.
The story centers on a police investigation of the disappearance of college co-eds whose bodies are found in nearby hunting lands. The clueless investigators, in desperation turn to a couple of local psychics.
There is plenty of authentic history, pseudohistory and great-sounding nonsense here to satisfy lover of the mysterious and supernatural—plus visits to an abandoned penitentiary, the real-life Hare Krishna Palace of Gold in West Virginia and the surprising discovery of a buried runestones connected to the early Mormons.
Eventually some of the townsfolk begin to talk, a couple of loose-lips speak and the mystery begins to unravel as they discover a shocking cult, quietly populated with the town's eminent business people.
It's a real quick read and good fun with an unexpected ending that made the book editor's spine crawl. Best of all it's available for Halloween.
The book is available now at Amazon.com, BookSense.com and AtlasBooks.com. Excerpts can be read by searching Grave Creek Connections in Googlebooks and a short film can be seen at GraveCreek.com
The book is published by Vicoa.com.
###