Taco Bueno® Embarks on Company-Wide Remodel Program
71 restaurants to be remodeled by the middle of 2014.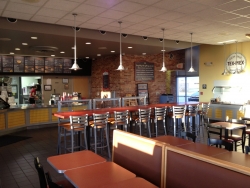 Dallas, TX, January 15, 2014 --(
PR.com
)-- Taco Bueno Restaurants L.P. has initiated a company-wide remodeling program with intentions to complete 71 remodeled restaurants by the middle of 2014. In the Dallas-Fort Worth area, 41 restaurants have already been successfully remodeled with a completely new interior and exterior look.
"Our goal is to create an atmosphere that communicates the authenticity of this iconic Tex-Mex brand while making the restaurants more comfortable for our guests," said Mike Roper, Taco Bueno Chief Operating Officer.
The newly-remodeled restaurants are designed to foster a welcoming environment to individual guests with bar stool seating as well as larger groups with long community-style tables. The interior has been refreshed with wooden rafter ceilings and warm pendant lighting to create a more intimate environment. The interior décor features elements of Taco Bueno's brand campaign including canvased artwork of the brand 'hero' who champions the restaurants' freshly prepared Tex-Mex tacos and burritos. An iconic feature of the new design is a gabion, caged-rock wall framing the entrance of each restaurant.
"The challenge was to create a fresh look and feel in a variety of existing building types that would honor the Taco Bueno heritage and unify the brand as a physical space," explained Royce Ring, Principal of Plan B Group, Inc. "These new design elements 'connect the dots' with the fresh approach to food and the authentic Tex-Mex atmosphere and attitude that Taco Bueno is known for."
Thus far, 41 restaurants have been remodeled including locations in Grapevine, Carrollton, and Plano, as well as Cedar Hill and Desoto, among others. Beginning in the spring, the remodel program will expand to Abilene, Kansas City, Tulsa, and Oklahoma City.
To celebrate the remodeling of several of their restaurants, Customer Appreciation Parties will be held at several of the newly remodeled locations whenever possible. Local radio stations will be broadcasting live, playing music, and helping give away prizes. Customers who attend the parties will have a chance to win a new iPad, gift cards, and much more! Guests interested in attending these parties should check the official Taco Bueno Facebook page for specific details at www.facebook.com/buenoheadquarters.
About Taco Bueno Restaurants L.P.:
Taco Bueno is committed to creating an authentic Tex-Mex experience. Taco Bueno is passionate about providing better tasting Tex-Mex, prepared daily with fresh, hand-selected ingredients. Founded in 1967 in Abilene, Texas, Taco Bueno operates 174 restaurants in Texas, Oklahoma, Arkansas, New Mexico, Louisiana, Kansas and Missouri. The company is privately owned by Palladium Equity Partners. Learn more about Taco Bueno by visiting
www.tacobueno.com
or
www.facebook.com/buenoheadquarters
.
About Plan B Group, Inc.:
Dallas-based architecture and design firm Plan B Group, Inc. specializes in hospitality design. Find out more about Plan B Group, Inc. by logging on to www.planbgroup.net.
Contact
Taco Bueno Restaurants, L.P.
Stella Molina
972-919-4853

Contact