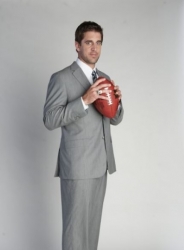 Milwaukee, WI, January 15, 2014 --(
PR.com
)-- Each year, the Bart Starr Award is given to one special NFL player. This award recognizes outstanding character in all areas of the football player's life - not just on the field. This year, they are proud to broadcast that this award for 2014 will be given to the quarterback for the Green Bay Packers: Aaron Rodgers.
Aaron Rodgers continues to show exceptional leadership qualities as he becomes more recognizable to the public. Within his nine year career in the NFL, he has been active with a number of charities and non-profit organizations such as Midwest Athletes Against Childhood Cancer (MACC), Young Life, Make-A-Wish, and most recently Raise Hope for Congo.
Currently, Rodgers got together with the great mind of Milwaukee attorney David Gruber and created the website www.itsaaron.com. This website builds public awareness of other community participants who are also making changes for an improved future.
The Bart Starr Award recipient is voted on by fellow NFL players. Like the award's namesake (Hall of Famer Bart Starr), the winner must show a passion for greatness in the world around him. The honor is intended for someone who portrays an exceptional role-model at home, on the field, and in the community.
Athletes in Action confirmed the news of Rodgers' achievement earlier today. Other considerations for the award were Ryan Clark of the Pittsburgh Steelers and Jared Allen of the Minnesota Vikings.
The award will be presented to Rodgers during the 27th Annual Super Bowl Breakfast on Friday, January 31st. The breakfast will include many special guests, including other NFL players, coaches, and associates.
To learn more about Aaron Rodgers and David Gruber's mutual mission, visit
http://www.gruber-law.com
or call 414-973-1060.