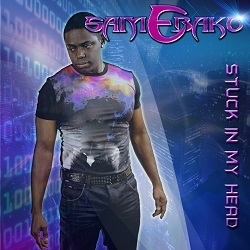 Los Angeles, CA, January 17, 2014 --(
PR.com
)-- The young acclaimed Cameroon born singer and entertainer launches his highly new anticipated single and video titled Stuck in my Head. This inspiring project as a whole, underlining message is one that says; dreams do come true and success is in the hand of those who are willing to be daring and never stop believing in self. The single http://www.cdbaby.com/cd/sabebako was written by Sam Ebako aka Sam-E and was produced by Sebastian Briley (Sebaz Music) in North Hollywood California. The video was shot in Malibu, California by Giovanno Cotto-Ortiz,who was able to capture the beauty of the coast line city as well as the romantic shores of El Matador beach. This coastal setting was essential for projecting the story sang by Sam E in Stuck in my Head.
The video also features the beautiful and sexy up an coming super model, Chrys Carter who many have mistaken for Rhianna, but yet she maintains her own beauty, style and grace. Sam Ebako artistic colorful direction is a fresh "emblem" in the U.S. and across the world. This young and talented Los Angeles based artist showcases his soulful and passionate vocal skills in a performance that's sure to please the masses and critics alike. Sam Ebako is definitely one of the most promising "soulful futuristic" brands in the music industry to date with a style and vision that's sure to transcend today trends and even the ones he sets.
Sam E assures, "I want your hot emotions and love, endlessly." There's no rapping at all here, and Sam Ebako's singing has never sounded better. Its equal parts bleary-eyed anthem for every girl who's ever left a club alone at last call and bottom-lip-biting Pop-Electronica banger. Is he just trying to get into your mind before the end of the night? Probably. But you're going to cry on each other's shoulders first and feel better about pursuing your dreams the next morning.
http://www.cdbaby.com/cd/sabebako
http://www.youtube.com/watch?v=zpR7L2jPGeg