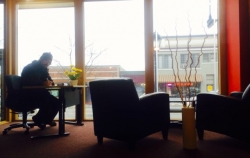 Livonia, MI, January 22, 2014 --(
PR.com
)-- Metro Work Space announces the opening of a new facility, capitalizing on the rising trend of coworking in Farmington, MI.
Metro Work Space is a local business at the forefront of the 'coworking' trend that is revolutionizing the field of entrepreneurship. Unlike traditional office buildings, coworking spaces bring together a range of entrepreneurs, small businesses and freelancers in a single office space. Members pay a monthly fee to access a range of office amenities including conference rooms, Wi-Fi, printing, mailboxes, and coffee.
Coworking is on the rise globally, up an estimated 117% in the last year according to DeskMag. Locally, Michigan has a strong entrepreneurial culture that makes it a good fit for coworking. Nearly 20% of graduates from Wayne State, Michigan State and University of Michigan have started a business, according to a new study by East Lansing-based Anderson Economic Group.
Many small businesses find that coworking meets their needs better than working from a coffee shop or a home office. "I've been an independent consultant three times," said member Kristen Rolf. "This time everything is easier thanks to Metro. Plus I love the community!" Rolf is typical of many coworking customers who appreciate opportunities to share ideas with other professionals. Members also benefit from the cost-sharing business model which typically provides far more amenities than the average private office at a much lower price.
Metro Work Space founder Todd Luhtanen decided to base the newest Metro location in Farmington because of the community's mix of working professionals and the supportive downtown business community. Eventually, he hopes to expand Metro Work Space throughout the Detroit area. "We want Metro to meet small business folks where they live. We want to help entrepreneurs build networks in their own communities."
Former Farmington Mayor and partner in the coworking building knows that "the downtown Farmington area is perfect for a coworking facility. I know small business owners will appreciate the ability to walk to restaurants, stores, banks, and other businesses. Farmington's vibrant and safe environment is an outstanding venue for a coworking space."
Metro Work Space – Farmington will open on February 1st at 33316 Grand River Avenue in the Cook Building in downtown Farmington. There are a variety of memberships available at Metro Work Space – Farmington, starting at $199 per month. Additional details are available at www.metroworkspace.com or by calling 248.919.3290.
About Metro Work Space: Metro Work Space is a coworking facility operating out of locations in Livonia and Farmington Michigan. Metro is a membership-based office that provides fully managed offices at the fraction of the cost of a traditional office lease. Memberships are available to meet various business needs and amenities include Wi-Fi, conference rooms, coffee, copying, printing, faxing and many other business needs. Metro's offers a range of amenities at twice the value for half the cost vs a private office. Metro can be reached at 248.919.3290, info@metroworkspace.com, www.metroworkspace.com, @metroworkspace and www.facebook.com/metroworkspace.