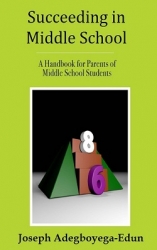 Frederick, MD, January 28, 2014 --(
PR.com
)-- Middle school is not just challenging, both for adolescents and their parents and guardians, it is also that stage of a child's K-12 education when the risk of developing poor academic, social and coping skills that can impact future educational success is very high. Joseph Adegboyega-Edun is a professional school counselor with a passion for student success on all facets of school life and a determination to support parents and guardians in their quest to see their students do well. His latest book, "Succeeding in Middle School: A Handbook for Parents of Middle School Students" is a comprehensive guide to help parents and middle school students accomplish this goal.
The adolescent who barely scrapes through middle school is at risk of dropping out of high school. Therefore, for parents and guardians, knowing when, how and where to seek support to ensure their middle school student's success becomes a priority. Success in the middle school years helps to build the student's confidence as he/she gets ready for the rigors of a high school education.
The three years of middle school form the foundation for a student's high school education. Succeeding in Middle School: A Handbook for Parents of Middle School Students is designed to assist parents and guardians working with their adolescents to make the three years of middle school a positive experience.
The book is a unique handbook for parents and students alike. Mastering the learning objectives of core courses like mathematics, science, social studies and English in grades six through eight, helps pave the road to a successful high school career. It will also help the student who desires to compete for a spot at a selective high school or a selective high school program.
Succeeding in Middle School addresses the key issues that parents and guardians of middle school students and the students themselves face. The book provides parents and guardians with strategies and pointers to help them provide the support that their students need to be successful in middle school. It shows parents how to help their students prepare for the transition from elementary to middle school and how to monitor their students' progress. The book explains how parents can advocate for their adolescents' education and what they can do at home to help their students handle emotional challenges, stress, and distractions. It helps parents pinpoint and make use of resources that may be available at their students' middle school and identifies appropriate channels for additional help.
The three years of middle school should be a pleasant learning experience for all adolescents. Parental support and help from school staff can ensure the success of middle school students. Joseph Adegboyega-Edun's new book provides practical guidance to make this goal achievable for parents and students.
Succeeding in Middle School
Format: Kindle
SRP: $4.95
Genre: Education
About the Author
Joseph Adegboyega-Edun, M.A., an educator for more than twenty years, has taught and counseled middle school students in New York, North Carolina and Maryland. He is a member of the National Association for College Admission Counseling (NACAC) and served on its Editorial Board. Currently a high school counselor in Maryland, Adegboyega-Edun is also the author of Succeeding in High School: A Handbook for Teens and Parents plus A College Admissions Primer.
To contact the author or to request review copies (PDF), please email Joseph@AmericasCounselor.com.