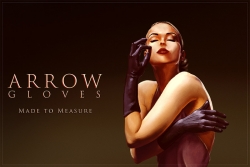 Fort Worth, TX, January 28, 2014 --(
PR.com
)-- Locally owned Arrow Gloves, LLC announces the launch of its web-based sizing platform for made-to-measure dress gloves. The proprietary technology allows Arrow Gloves to produce custom leather gloves for men and women around the world. Until now, the market for custom gloves has been limited by geography, and customers have had to physically visit one of the few remaining custom glove makers in order to provide their measurements.
For a growing group of consumers who understand the importance of fit, standard sizes -- small, medium, large -- fail to accommodate the significant variations in dimensions among individuals. With Arrow Gloves, customers simply use a cell phone to capture and submit a photo of each hand at checkout. The integrated platform uses photo recognition to generate a highly accurate model of each hand. Subsequently, each pair of Arrow Gloves is cut to these unique measurements.
A Kickstarter campaign has begun Monday, January 13 to take initial orders and scale production. Interested parties can also sign up through the landing page at www.arrowgloves.com or stay up to date on the company Facebook page. Following a successful run on Kickstarter, the full site will accept orders from customers using a slightly modified checkout process. Customers are prompted to submit a photo of each hand, including a standard-sized ID or credit card in the frame as a baseline object. Those dimensions are then translated into a set of custom patterns against which each pair of gloves is cut by hand.
With leather sourced from America's former gloving capital, Gloversville, NY, and production performed by hand in Fort Worth, TX, Arrow Gloves seeks to return a skilled manufacturing tradition to the United States.