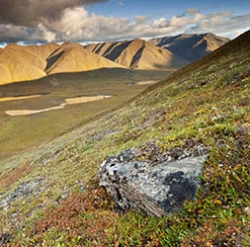 Anchorage, AK, January 29, 2014 --(
PR.com
)-- Carl Johnson served as the Artist-in-Residence for Gates of the Arctic National Park & Preserve in 2007. He was the first photographer selected for that residency. During his residency, which involved a trip in the Alatna River watershed, Carl captured "Alatna Headwaters." As part of his residency, he donated a framed print of that image to the park's permanent collection. That print has been selected to represent Gates of the Arctic National Park & Preserve in the upcoming Voices of the Wilderness exhibit.
The multimedia pieces that make up the exhibit celebrate the diversity of Alaskan wilderness and were created by artists from across the United States and the world, many of who were artist-in-residences hosted by agencies that manage federally designated wilderness. This exhibit is sponsored by the U.S. Forest Service, National Park Service and U.S. Fish and Wildlife Service. The traveling show was created to commemorate the 50th anniversary of the 1964 Wilderness Act and represents artwork inspired by twenty different wilderness areas in Alaska.
Through the Voices of the Wilderness artist residency program, artists spend up to two weeks in one of Alaska's spectacular wilderness areas with a ranger participating in stewardship duties, such as pulling invasive weeds, helping with wildlife research, cleaning up garbage and marine debris, and monitoring air quality. Through a variety of media, including poetry, sculpture, painting, photography, fiber arts and music, artists translate how the wilderness has inspired them.
The exhibit will travel to seven Alaskan cities throughout 2014: Sitka, Ketchikan, Juneau, Fairbanks, Homer, Kenai and Anchorage. The Voices of the Wilderness Traveling art exhibit is made possible with funding by Rasmuson Foundation through the Harper Arts Touring Fund, and is administered, under contract, by the Alaska State Council on the Arts.