AeroGroup Concludes F-16 Pilot Training Contract with the Air Education and Training Command (AETC) for the Belgian Air Force, Belgian Air Component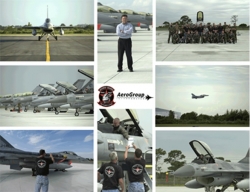 Fort Lauderdale, FL, January 31, 2014 --(
PR.com
)-- AeroGroup Incorporated (AeroGroup), a leading provider of tactical pilot training, completes the F-16 Pilot Training Contract with the Air Education and Training Command (AETC) for the Belgian Air Force, Belgian Air Component. AeroGroup was awarded the competed contract in October 2007 to supply F-16 instructor pilots to support classroom and flight instruction to student pilots that were transitioning from the fighter lead-in AlphaJet trainer to the MLU version of the F-16 multi-role fighter. The contract was successfully concluded in December 2013.
AeroGroup supplied a deployed Mobile Training Team (MTT) of F-16 instructor pilots that were specifically familiar with the Mid-Life-Upgrade ("MLU") version F-16 aircraft that are operated by European Participating Air Forces (EPAF). The training program was conducted and based at Kleine Brogel Air Base, Belgium.
Mark Daniels, CEO of AeroGroup stated: "We are proud and honored to have been able to provide our F-16 instructors for this pilot training program. We were the first and only private commercial company to perform these services since 2003, and now with more than a decade of excellent past performance, we are a well-positioned industry leader to offer our services to other F-16 customers that have needed training requirements. There are now approximately 25 plus countries operating the F-16 and more are looking to transition to this great capable fighter aircraft."
About AeroGroup:
AeroGroup has been supporting military pilot training, research and development programs since 1999. AeroGroup was the first private commercial company to negotiate the purchase of F-16 aircraft from the Dutch Government in 2002. In 2003, AeroGroup was the first private commercial company to perform and host deployment for the Royal Netherlands Air Force F-16 training program in the Continental United States. Other F-16 support and training programs continued which included Italian and Belgian Air Forces. AeroGroup is a defense services company that has over the years, operated without incident and achieved a 98% mission completion rate. The company has operational experience with various tactical aircraft including; MiG-21, B-57, L-39, T-38, F-5, A-4, Hawker Hunter, Harrier, and F-16 Falcon. The company offers aircraft and training for airborne adversary support, flight training, threat simulation, electronic warfare support, aerial refueling, forward air control, range clearing, UAV research and testing. For additional information, visit www.aerogroupinc.com.
Contact
AEROGROUP
Scott Patterson
561-722-5561
www.aerogroupinc.com

Contact