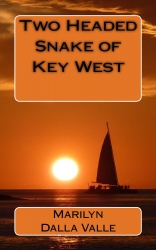 Torrington, CT, February 03, 2014 --(
PR.com
)-- The long-awaited "Two Headed Snake of Key West," third in the Liz Adams Mystery series, was published on January 28, 2014. Written by Torrington, Connecticut native and lifetime resident, Marilyn Dalla Valle, the story unfolds in Key West, Florida.
Looking for adventure, Liz and Garret Adams leave their homeport, Mystic, Connecticut and sail their 36 foot sloop to Florida. As the fiery orb melts across the horizon, cannons rumble, cheers resound and the partying begins in Key West.
Mayhem follows amidst the palm trees and tropical breezes. Greed, power and jealousy cause brittle relationships to snap. Liz's uncontrollable psychic powers kick into gear, thrusting the unsuspecting cruising couple into a race to prove a friend's innocence.
About the Author: Dance Instructor for 5 years and professional photographer for 30, when her two sons left the nest, Ms. Dalla Valle decided it was time to write. In March 2000, "Murder in Mystic," the first in a mystery series, was e-published at Zeus Publications. Within two months it rose to #2 on the bestseller list, was editor's choice for October and was nominated for the Frankfurt E-book Awards.
"Murder in Newport," second in the series, was e-published in August 2000 and hit #7 on the bestseller list within two weeks. By January 2001, it switched places with "Murder in Mystic."
All three books are available at Amazon Kindle, Amazon books and for order at your local bookstore. "Murder in Mystic" and "Murder in Newport" Audiobooks are offered at Audible.com, Amazon.com and iTunes.
To learn more about the books, follow Marilyn Dalla Valle's blog, offer comments or ask questions, please visit www.marilyndallavalle.com. Ms. Dalla Valle is available for interviews, speaking engagements and book signings.