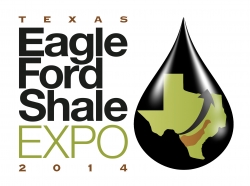 Corpus Christi, TX, February 10, 2014 --(
PR.com
)-- Texas Eagle Ford Shale Magazine officials are extremely excited to announce expo details and put a call-out for exhibitors, supporters and speakers to participate in the upcoming 2nd Annual Texas Eagle Ford Shale Exposition and Service Company Conference. The three-day event will take place April 28–30, 2014, at the American Bank Center, in Corpus Christi, Texas. The event will bring together service companies, leading operators and industry experts from across the nation to present their findings, new technology and share insights related to the Eagle Ford Shale play. With the theme "Trail of the Shale - Forging Pathways to a New Energy Marketplace," organizers of this prestigious event anticipate hosting more than 2,000+ attendees, 250 exhibitors and 100 speakers. The event's Presenting Sponsor is Los Angeles company-based JC Fodale Energy Services, LLC, a nationwide oilfield services provider; Applus RTD, Pipe Gator and Stratton Oilfield Systems are Diamond Level Sponsors.
"The Expo promotes business to business success. Our goal is to bond relationships between businesses and those seeking growth, jobs, cutting-edge technology, education and prosperity in the oil and gas industry by making connections in one single location. We're glad we can provide a platform to share products, practices and exciting innovations," says Sandra Castillo, Publisher of Texas Eagle Ford Shale Magazine and event coordinator.
Expert speakers will make presentations within 5 informative tracks:
1. Innovative & Emerging Technology
2. LNG Energy Sustainability
3. Equipment & Operational Services
4. Water Applications & Processes
5. HSE Training & Compliance
Castillo points out exhibitors will be able to interact with an extraordinary number of clients, vendors and attendees with interests in the Eagle Ford Shale oil and gas community; enjoy networking opportunities with decision-makers looking for operational products and services; and capture immediate feedback. Exhibitors will also be able to stay on top of industry trends, acquire leads, close sales, and draw new customers.
"We invite businesses to promote, launch, demonstrate and sell their services and products directly to hundreds of leaders," adds Castillo.
History
With its first edition hitting the streets in May 2013, Texas Eagle Ford Shale Magazine is the very first and only publication in the South Texas shale region dedicated entirely to promoting business and industry directly to the Eagle Ford Shale community and global interests. The magazine illuminates the history, economic growth, financial advancement and sustainable energy future that the Eagle Ford Shale play offers to the great State of Texas and borders beyond. The publication's unique and well-rounded approach to stimulate minds and conversations through informative and entertaining content and creative design was even given a nod by Forbes (September 26, 2013).