Renowned Designer, Mario Laliberté of La Maison Vienna Couture Canine Unveiled the Futuristic Royal Dress
Canadian-based designer Mario Laliberté unveiled The Futuristic Royal Dress at the 2014 New York Pet Fashion shown, held in New York last weekend, that raised funds for the Mayors Alliance of NY. The theme was Royalty.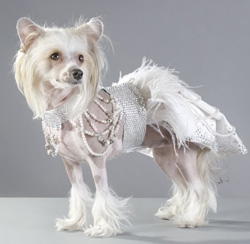 New York, NY, February 17, 2014 --(
PR.com
)-- The gown priced at $3000 was the designers vision of a futuristic queen. The dress was worn by Mia Bella, a 2 year old Chinese Crested owned by the designer.
"Mia's dress was my vision of a futuristic queen," says Mario Laliberté. "Coming from a far away frozen land so cold, that people live in the underground cities made of crystals and diamonds. Kind and pure at heart, they live peacefully and stay secluded from the rest of the world. Artistic and proud people, they enjoy life by surrounding themselves with beauty. Art, music and fashion shape their society. Crystal sculptures are scattered throughout the cities, music is made with the resonance of crystals and can be heard softly in the streets. Their sense of fashion is pure, with crisp lines and soft fabric that is sometimes adorned with crystals and pearls, made of ice that is mined in the depths of the ice caves. As humbled people, they have lived in peace, secluded for centuries. The queen, curious about the outside world, will briefly leave the kingdom, accompanied by one or her subjects for a cultural exchange to the outside world."
The story came to life in this stunning masterpiece. The dress constructed of luxurious velvet lined in bridal silk with over 2000 Swarovski crystal elements were hand set individually. The side of the bodice of the dress is adorned with crystal pearls and Swarovski beads and silver accents that gracefully hang on the side of the body of the model. The waist is adorned with white ostrich feathers. Crystal pearls were added to the skirt creating a cascading effect.
La Maison Vienna Couture Canine and designer Mario Laliberté is well known for creating unique and luxurious canine couture his designs can be found at www.viennacouturecanine.com.
Contact
Vienna Couture Canine
Mario Laliberté
514 243 4377
www.viennacouturecanine.com

Contact