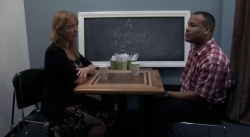 Los Angeles, CA, February 26, 2014 --(
PR.com
)-- Hayley Gilbert to Team with Lost Angeles Films on new Webseries.
UK born actress, Hayley Gilbert, has teamed with Lost Angeles Films to produce a hysterical series about dating in Lost Angeles. The actress stars as a recent LA transplant who tries her luck with all types of singles. From young, old, rich, poor and even a woman. Hayley though of the idea while listening to her friends complain about the troubles they have while looking for love in the loneliest city in the world. She shot two episodes in late 2013 that will air on March the 1st 2014 on YouTube.com.
Ms. Gilbert is planning on shooting the rest of the series over the next few months. She is working with award winning team from LionGates, "Skinned Alive" writer, Joshua Nelson and Director James Tucker.
Hayley has been working in Los Angeles and London over the past few years. This series is the first that she has helped produce, as well as starred in. Hayley is a talented actress who is passionate about comedy. The team is very excited to release this amazing series.
For more information or info regarding Hayley Gilbert please contact:
MPowerPublicity@gmail.com