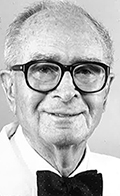 Larchmont, NY, June 02, 2014 --(
PR.com
)-- MediaMed announces that Jacobi Medical Center (Jacobi) renamed its Burn Unit in honor and memory of Dr. Stanley M. Levenson, whose dedication to patient care and exceptional skills as a clinician and medical researcher led to major advancements in the treatment of burn victims.
The Stanley Levenson Burn Unit serves as a regional center for the treatment of burns and is the second largest burn unit in New York City. The Levenson Burn Unit has a world-class reputation as a leader in the research and treatment of burns. The Unit's reputation has been earned over nearly six decades of innovative patient care and scientific investigation under the skillful leadership of Dr. Stanley M. Levenson.
According to Dr. Marie-Ange D. Tardieu - Historian of Medicine and New York Plastic Surgeon - who was a former surgical resident and burn fellow at Jacobi and Einstein affiliated hospitals, "the story of the Levenson Burn Unit began in 1955 when Jacobi Hospital opened. This coincided with the opening of its neighboring institution - The Albert Einstein College of Medicine of Yeshiva University. Jacobi became the founding hospital and the first institution to be designated the University Hospital of the Albert Einstein College of Medicine."
"Around that time," Dr. Tardieu added, "the treatment of burn patients at Jacobi fell under the auspices of its surgery department, which counted Dr. William Metcalf as director of the burn service and many attending physicians of the Einstein faculty. By the time Dr. Levenson joined the Einstein faculty in 1961, he had already established himself as a leader in the treatment of burns during the Cocoanut Grove Club Fire that claimed the lives of more 500 Americans in Boston in 1942. That made Dr. Levenson the logical choice to succeed Dr. Metcalf, who had been overseeing the treatment of burn patients at Jacobi when the medical school opened."
"Over the years," Dr. Tardieu explained, "Dr. Levenson strengthened both the surgery department and the burn service at Jacobi. He recruited noted clinicians and researchers, persuading hospital administrators to organize a burn service that would provide medical training in the care of burn patients. Dr. Levenson campaigned for and succeeded in establishing the burn unit at Jacobi as an entity separate from the surgery department.
"The Jacobi Burn Unit subsequently evolved into a leading center for burn treatment, research and education. Its achievements complement Jacobi's rich history of innovative patient care."
Dr. Tardieu recounts that "Under Dr. Levenson's watch at Jacobi, a new and highly effective method of hyperalimentation was developed that quickly became the standard protocol for providing nutrition to burn patients. Dr. Levenson and his team also used germ-free isolators to reduce the risk of infections. This technology became so effective that obstetricians at Jacobi used it in 1969 to deliver the world's first 'germ-free' baby."
"During the decades that followed, Jacobi continued to make significant contributions to burn care. The first clinical application of the CO2 laser to treat burn patients took place at the medical center in 1971. The Jacobi Burn Unit was also among the first to use artificial skin and other advanced care produces in the management of major burns.
"On June 2nd, 2014, at 5 PM, Jacobi Medical Center will unveil the new name of its Burn Unit at a ceremony that will take place at the entrance of its Burn Unit located on the 2nd floor of Building #6 of Jacobi Medical Center, Pelham Parkway South, Bronx, NY. At that ceremony, the Medical Center will honor Dr. Levenson's legacy with a permanent display outside of the Burn Unit. The display notes the time, life and achievements of Dr. Stanley M. Levenson.
"The Levenson Burn Unit Unveiling Ceremony will be attended by families, friends, colleagues and dignitaries of both the City of NY and the Albert Einstein College of Medicine. A reception will follow the unveiling ceremony."
About the Stanley M. Levenson Burn Unit
The Stanley M. Levenson Burn Unit at Jacobi Medical Center is the designated Burn Center for the New York City Health and Hospitals Corporation. With 200 discharges and more than 1400 ambulatory visits annually, The Levenson Burn Unit provides initial lifesaving intervention, critical care, surgical reconstruction, and outpatient specialty follow-up. The Levenson Burn Unit is a state-of-the-art facility. It operates an eight-person hyperbaric chamber, which provides life-saving treatment for patients with carbon monoxide poisoning and smoke inhalation injuries. The Levenson Burn Unit is designed to allow the burn team to provide all aspects of wound care at the bedside with patient rooms containing all necessary medical equipment. The unit is equipped to provide kidney dialysis and hydrotherapy, with shower units large enough to accommodate ventilators. It houses its own operating and debridement rooms as well as family and private consultation rooms.
About Jacobi Medical Center
Jacobi Medical Center is part of the North Bronx Healthcare Network of New York City's Health and Hospitals Corporation. The 475-bed teaching hospital is affiliated with the Albert Einstein College of Medicine. Jacobi offers numerous centers of excellence including a trauma center, multi-person hyperbaric unit, burn center, stroke center and regional perinatal center.
About Dr. Stanley M. Levenson
Born in Boston Massachusetts in 1915, Stanley M. Levenson received his primary education at the prestigious Boston Latin School. From the Latin School, Levenson attended Harvard College, 37' and subsequently, Harvard University Medical School, 41'.
After medical school, Levenson worked with Dr. Cecil K. Drinker on the development of the oxygen mask used during World War II. He began work at Boston City Hospital as a burn fellow where, with a team of dedicated clinicians and scientists, he oversaw the care of victims of the Cocoanut Grove fire, a major event that was a significant milestone in the history of burn care. In this process, Dr. Levenson made important contributions to the advancement of Burn Care and Medical History.
During his seven-decade career, Dr. Levenson served as Chief, Radiobiology, Army Medical Nutrition Laboratory in Chicago. In 1953, he moved to Walter Reed Army Institute of Research, Washington, D.C., where he was Chief, Surgical Metabolism; Director, Basic Surgical Research; and Director, Germfree Research.
He was also Associate Clinical Professor of Surgery, Georgetown Medical School, and in 1961, he joined the faculty of Albert Einstein College of Medicine, Bronx, NY.
Dr. Levenson also earned world-wide recognition as being:
The first physician in recorded history to successfully treat a patient with skin burns covering more than 50% of the body.
The first physician and clinical investigator to show that smoke contains lethal chemicals that deprive the lungs of oxygen and lead to death. He thereby revolutionized the management of burn victims through his recognition and treatment of thermal and smoke inhalation injury.
Levenson's care and studies of burn victims has resulted to our modern day understanding of thermal burn and smoke inhalation.
Levenson made significant contributions to advancing wound care and treatment and to surgical nutrition and metabolism. He received many honors and award for his medical contributions and was the author or co-author of more than 390 publications on burns, nutrition, wound healing, and other subjects. He died on March 28, 2012, at the age of 96.