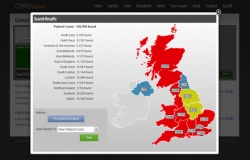 Brighton, United Kingdom, March 01, 2014 --(
PR.com
)-- Dataline Software is delighted to announce its attendance at the inaugural "Disruptive Innovation in Clinical Trials" conference in London on 4th & 5th March 2014, where it will be showcasing its latest eClinical solutions.
Introducing TrialViz; Trial feasibility and recruitment.
At the conference, they will be demonstrating how TrialViz provides real time search results from billions of clinical events and test results to locate patients that correspond to a clinical trial protocol. The tool allows for trial feasibility decisions and recruitment processes to happen in days rather than months and at a fraction of the traditional cost. Dataline is partnering with the Clinical Practice Research Datalink (CPRD) to launch the system later this year to life sciences organisations looking to conduct medical research using anonymised UK patient data.
It's been a busy 12 months for Dataline Software. As well as the company turning 30, moving offices and growing its development teams rapidly, some of the year's software successes have included:
- Partnering with the Clinical Practice Research Datalink (CPRD) to launch TrialViz, the feasibility and recruitment toolset for clinical trials
- Launching the Novo Nordisk "Volunteer Outreach Program" web based patient engagement application
-Releasing the latest version of Snoflake and SnAPI, an online Snomed CT terminology browser and free to use Snomed API.
If you are interested in hearing more about how Dataline can help solve your clinical challenges, please stop by their stand, or contact them via their website.
About Dataline Software (
www.dataline.co.uk
)
Dataline Software is a Brighton based bespoke software house, specializing in eHealth solutions and innovative multi-industry data management tools. Founded in 1983 and working with the NHS and pharmaceutical corporations for over 10 years, Dataline Software has established themselves as an innovator of disruptive healthcare and clinical trial technologies.
Disruptive Innovation in Clinical Trials:
www.healthnetworkcommunications.com/conference/disruptiveinnovation