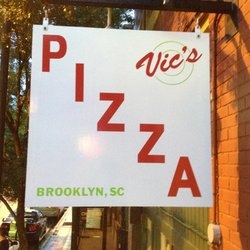 Greenville, SC, March 04, 2014 --(
PR.com
)-- Pie Shop Brooklyn meets South Carolina
The doorway of Vic's Pizza on Coffee Street is like a transporter. Step through, and you immediately feel as though you've been whisked 700 miles north to a tiny pizza shop in Brooklyn where oversized slices of thin-crust pizza hang over the edges of oil-soaked paper plates. And is it ever worth the trip.
Owned and operated by a local Greenville family, Vic's is one of downtown Greenville's hidden gems. The pizza is authentic Brooklyn-style, thin-crust bread dough layered with sauce and Bacio cheese. The toppings range from the traditional—pepperoni, sausage, green peppers—to the unexpected; buffalo chicken, bleu cheese, and Vic's hot sauce. But if you want the house specialty, ignore your cardiologist and order the "Carnivore," a 16" pie loaded with beef, pepperoni, and sausage. Or try Vic's Monster "Bronx Bomber" a 28" pizza pie that will barely fit out the door.
Besides pizza, Vic's also offers calzones, stromboli, subs, gyros, wings, canolis and highly addictive garlic knots. But it's the pizza that sets Vic's apart from the crowd. And with prices starting at just $3 a slice, it's a delicious downtown deal. Vic's also accepts major credit cards and delivers within a 2 mile radius of downtown Greenville.
Vic's Pizza, 12 E Coffee St, Greenville. (864) 232-9191. Visit Vic's website here: http://www.vicspizza4u.com