Louisiana Author Launches Sequel in Thriller Series
Van R. Mayhall Jr, a Louisiana native, launches the sequel to his popular thriller, "Judas The Apostle."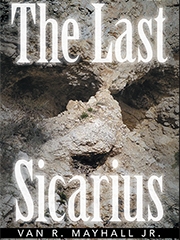 Baton Rouge, LA, March 07, 2014 --(
PR.com
)-- Barnes & Noble will host a launch party celebrating the release of Louisiana author, Van R. Mayhall's sequel, "The Last Sicarius," in his Cloe Lejeune thriller series.
The launch party will take place on March 15th, 2014, at Barnes & Noble in Citiplace at 3pm. Guests will be among the first to preview his new book as well as mingle with other JTA enthusiasts.
In an exciting sequel to "Judas The Apostle," Cloe and friends race against time to find the ancient cave of jars before the Kolektor's criminal organization finds them and Christianity is destroyed forever.
According to the author, "Judas The Apostle" began the series examining controversial claims involving the motives of Judas Iscariot in his betrayal of Christ. A two thousand year old relic may hold the secret. Now, in "The Last Sicarius," Cloe, J.E. and the Monsignor are back on a confidential mission authorized by Pope Francis. The future of Christianity is at stake. "New characters, incredible biblical history, amazing ancient venues and a fight to the death with the forces of evil round out the sequel," adds Mayhall. "I hope you enjoy!"
About the author
Van R. Mayhall Jr. is senior partner in the Baton Rouge office of Breazeale, Sachse & Wilson LLP, where he practices corporate and business law, and handles selected litigation. Born and raised in Baton Rouge, he attended LSU and Georgetown University. He and his wife, Lorri, have three children. For more information on "The Last Sicarius," visit the author's website at www.vanrmayhalljr.com. You can also find Van R. Mayhall Jr. on Facebook.
The book is now available online at Amazon.com, Barnesandnobles.com and iUniverse.com. It may also be ordered from any local bookstore.
Contact
Van R. Mayhall Jr.
225-381-2084
http://vanrmayhalljr.com/
https://www.facebook.com/pages/Van-R-Mayhall-Jr/449730901744470

Contact