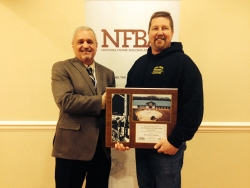 Chicago, IL, March 08, 2014 --(
PR.com
)-- The National Frame Building Association (NFBA) selected a building constructed by Metals Buildings of Harvard, Ill., as their Building of the Year winner in the Experts Division, Horse Barns/ Facilities (over 5,000 sq. ft.) category. Bill Peterson, founder and owner of Metal Masters Buildings accepted the award at the annual NFBA convention.
"The building Bill and his team constructed is one of the finest and largest examples of post frame construction," said James Cooper IV, member services for National Frame Building Association.
The building, located in Northern Illinois, is a horse barn with attached arena and spectator entertainment space.
The building features high-end amenities and features including: heated floors, custom stalls and full exercise arena all constructed by Metal Masters.
"Throughout the entire design and construction phase, Bill was a tremendous partner. Taking our ideas -adding many of his own- he brought to life the perfect facility all the while being conscientious of the budget," said the building owner. "With Bill's guidance our barn far exceeds our expectations."
"I've built my company and my buildings with an unwavering commitment to exceeding expectations, hard work and dedication to building buildings that are lasting and highly functional, it is such an honor to be recognized for this," said Peterson.