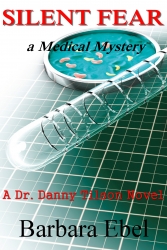 Sparta, TN, March 12, 2014 --(
PR.com
)-- What can you say about a book that has a sinister infection rampantly sweeping nationwide – diagnosis unknown? And the experts can't trace it back to the original patient as the timeline is so complicated? And a cure is not forthcoming as it explodes into a pandemic, yet the protagonist neurosurgeon harbors a mysterious immunity? What you get is a great suspense novel, multi-layered medical mystery, and the second book in the Dr. Danny Tilson Novels.
The San Francisco Book Review states "Silent Fear is an engaging work of medical fiction," WordPress Review states "Silent Fear's plot has much to commend," and the Midwest Book Review recommends Silent Fear as "medical mystery or thriller writing at its best."
Silent Fear picks up with the same vivid characters and then some," Dr. Ebel mentions, "in the sequel to Operation Neurosurgeon. I also wrote them so that both books can stand alone. Dr. Danny still has a harrowing personal life," she continued, "but at the hospital he is the pivotal player of the medical investigation when the CDC, a neurologist, and an infectious disease specialist are summoned for their expertise. As Danny's colleagues, patients and staff are falling dead around him the most crucial question of all is – why has Danny been spared?"
Doctor Barbara skillfully weaves the medical story with a terrific subplot covering Danny's personal life and the antagonist from the first book. Both crises come to a head. Our proficient yet flawed surgeon has his paramedic best friend, family, and experts helping him and they all carry substantial supporting roles. Not to mention his dog, Dakota.
Barbara Ebel's Dr. Danny Tilson novels take place in Tennessee, where she lives in a protected wildlife corridor with her husband and pets. She has also written and illustrated a children's book about her therapy dog titled Chester the Chesapeake, another novel, Outcome, a Novel, and a health book called Younger Next Decade. She is known as the credible medical fiction writer and the organism in Silent Fear actually exists.
Silent Fear can be found as an eBook at Amazon.com, B&N Nook, KOBO and most online eBook retailers. It will also soon be available like her other books on Overdrive, etc. for major libraries, and as a paperback on Amazon.com.
Please visit the author and her books, links, reviews, awards and book videos at: http://barbaraebel.weebly.com