Become a Hospice Volunteer
Fidelis Hospice bucks the negative dip in volunteering trend.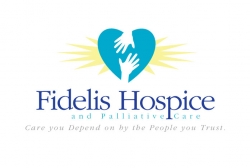 Framingham, MA, March 14, 2014 --(
PR.com
)-- New volunteers represents a positive trend in volunteering.
Fidelis Hospice graduated its first class of what's hoped to be many new volunteers that are trained to work in hospice.
Hospice Volunteers provide a vital piece of the Hospice care puzzle. Despite the many news accounts of the lack of volunteering, 10 residents of Falmouth signed up for a rather grueling, six-week course. Over this period of time, the volunteers were taught the fundamentals of hospice and specifically, how to be a hospice volunteer. The classes were taught by Nurses, Chaplains and Social Workers and facilitated by the Director for Community Outreach for Fidelis Hospice.
"I had very low expectations for this class," said Henry Roman, the Director for Community Outreach. "Training volunteers as part of an adult education curriculum was new to us and I wasn't sure we'd get anyone to sign up for such a long training, but 10 did." Four had to drop out for various reasons, but three have committed to completing the program during the Spring class. What's even better is that the current class of volunteers have told their friends and family about volunteering and they have expressed interest in signing up for the next class. "If this trend continues, we're going to have more volunteers than patients, which is a problem I'd love to have since we're rolling out this program in Framingham, Bourne, Braintree and Georgetown! By the way, retired persons make wonderful hospice volunteers!" said Henry as he chuckled.
About Hospice Volunteers.
Volunteers provide caring companionship to people with terminal illnesses. From playing cards, to reading, to talking or just sitting quietly, the time they spend with our beneficiaries is invaluable and provides both them and the beneficiary an amazing experience.
About Fidelis Hospice
The goal of the Fidelis Hospice Vigil Program is to ensure that no one dies alone. Many individuals and their families fear being alone as death nears. Fidelis strives to provide them with companionship and support. Contact Henry Roman at Fidelis Hospice at 978-912-7244 for more information.
Contact
Fidelis Hospice
Henry Roman
978-912-7244
www.fidelishospice.com

Contact