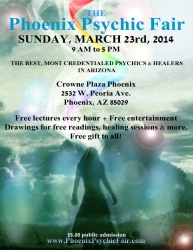 Phoenix, AZ, March 17, 2014 --(
PR.com
)-- Lecture Series - The Phoenix Psychic Fair/Holistic Event, March 23rd, 2014
Sunday, March 23rd, 2014 - 9 AM to 5 PM at the Crowne Plaza North Phoenix, 2532 W. Peoria Ave, Phoenix, AZ 85029
Are you still struggling with finances or issues that just won't seem to go away? The Phoenix Psychic Fair, featuring the best, most credentialed psychics, healers, and metaphysicians in the state of Arizona, plus visiting celebrity psychics from California, may have the answers you seek.
The upcoming holistic event, Sunday, March 23rd, 2014, at the Crowne Plaza North Phoenix, features a free hourly lecture series along with a variety of psychic readings, healing modalities, and exclusive products. Attendees can also enjoy the hauntingly beautiful music of multiple Grammy nominated flautist, Sherry Finzer, in free mini-concerts throughout the day.
"Not only do we feature the best psychics, healers, and metaphysicians in the state of Arizona at our unique holistic event, we have a free lecture series that begins at 9:00 AM with the last lecture ending at 5 PM," says Dyan Garris, owner of the event. "We have people who come and stay all day just for the free lectures."
The hourly free lecture line-up for the March 23rd, event includes "An Energy Medicine Approach to Wellness," presented by Sedona's Dr. Les Adler, M.D., as well as an overview of Edgar Cayce cures presented by Barb Anderson of the Edgar Cayce Center, and an astrological lecture with certified astrologer Brenda Black, explaining the upcoming, unusual and historic line-up of planets in our solar system and what it means. "It's just not your usual 'fare,'" Garris says.
The Phoenix Psychic Fair is Sunday, March 23rd, 2014, 9 AM to 5 PM at the Crowne Plaza North Phoenix, 2532 Peoria Avenue, Phoenix, AZ 85029. Free gift to all attendees. Each reader sets their own fee for 15 to 30 minute readings/sessions. Pay the vendor directly with their accepted form of payment. $5.00 public admission. There is no charge to attend the free lectures. Website: www.PhoenixPsychicFair.com
Dyan Garris is the owner of The Sedona Psychic Fair, The Phoenix Psychic Fair, and The Tucson Psychic Fair, as well as the award winning spiritual website Voice of the Angels.com. She is a visionary mystic, voice recognition psychic, and trance channel medium who reads directly from the Akashic records. A pioneer in the field of integrative healing and multi-dimensional living, she has created a Spiritual Toolbox™, a series of products that are designed to work together. This includes a multiple award nominated CD series, Voice of the Angels – A Healing Journey Spiritual Cards, and several books, including the award winning finalist book "Money and Manifesting."
Contact: Lauren Weiss, lauren@intuitivelauren.com. Lauren Weiss has worked directly with Dyan Garris for many years. Radio Host for Voice of the Angels, Lauren is an author of "Be Honest With Yourself 7 Secrets to Happiness and Success.