dE ROSAIRO's Contemporary Womenswear Debut Collection is a Hit with Retailers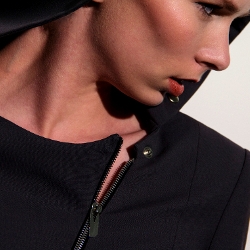 Los Angeles, CA, March 17, 2014 --(
PR.com
)-- Newly-launched contemporary brand dE ROSAIRO attracted a great deal of retailer interest at ENK Vegas and Coterie, the industry's largest trade shows. The fall/winter 2014 collection received complimentary feedback from Saks Fifth Avenue buyers and upscale U.S. and international boutiques ordering the line.
Drawing upon the idea of a better everyday fashion alternative, the Fall 2014 collection explores the iconic hoodie on a variety of jacket and knit silhouettes, in a never-been-done-before, refreshing way. Made in New York, the 25 remarkable debut styles range from simple blazers made modern by their angular construction, geometric seams, and hoods that convert intro high structured collars. Knits surprise with their unexpected cutouts and irregular necklines.
"What has intrigued me through my life is the role of the modern woman. I am so drawn to the power she holds, and how she so beautifully contains it within the boundaries of elegance and grace. The brand is about transcending the boundaries of womenswear, culture, and design by providing this modern woman with everyday luxury, elevating her lifestyle and empowering her to be more," explains designer Nishika de Rosairo.
As a strategic business advisor to Fortune 500 and Silicon Valley companies over the last 9 years, Nishika discovered a void in the market for sleek, modern styles that maintained a professional tone in the office, and were versatile enough to transition from day into night. The collection celebrates the sensuality, creativity and risk-taking of this modern woman as she goes from the home to the office to the evening benefit.
Nishika has always been a creative at heart, growing up in a home where her mothers love for fashion and dressmaking meant that as a little girl she grew up clad in new and beautiful dresses. Designing clothes from a young age herself, it was only natural that one day the convergence of business and fashion would re-kindle her entrepreneurial spirit, and that is how dE ROSAIRO was born.
The Fall 2014 collection will be available for buyers at the Emblem Showroom during the upcoming L.A. Fashion Market, and by appointment in major cities across the U.S. The collection will be available for purchase to consumers starting in August 2014 online and at specialty retail boutiques.
About dE ROSAIRO:
Inspired by the idea of everyday luxury, and focused on transcending the boundaries of womenswear, culture, and design, dE ROSAIRO offers modern, wearable separates known for their innate versatility, artistic sensibility and luxurious fabrics. Made in New York, each dE ROSAIRO piece has been carefully conceived to be worn in a formal or casual setting and as an elegant complement to one's work skirt, favorite boyfriend jean, or cocktail dress. For more information, visit www.dEROSAIRO.com.
Contact
Emblem
Eveline Morel
310.420.0125
www.derosairo.com

Contact