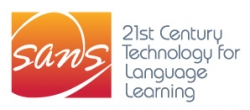 North Branford, CT, March 25, 2014 --(
PR.com
)-- Awards to the two fellowship recipients of the 2014 SANS Inc. /Mead Leadership Program will be formally announced this week at the annual meeting of the Northeast Conference on the Teaching of Foreign Languages (NECTFL) in Boston, March 27-30, 2014.
SANS
is the leader in the development of instructional technologies for language learning, including the SANSSpace™ virtual language learning platform and Sony Virtuoso™ and Soloist® digital language lab technology suite. SANS has been a sponsor of this program for seven years.
This year's fellows are Nathan Lutz, Primary School French Teacher, Kent Place School (NJ), and Nancy Zimmerman, Assistant Professor of Spanish, Kutztown University (PA).
The SANS Inc. /Mead Leadership Program recognizes foreign language teachers who demonstrate leadership and vision in world language education. Mead Fellows are selected in part for the quality of the projects they propose. The plan of action for that project is developed by each Fellow with a mentor, using input from leaders of 14 state foreign language organizations.
"SANS continually develops new technologies to help language educators engage their students in 21st century learning," said SANS President Ron Remschel. "We appreciate those educators who are proactive in exploring ways to improve teaching to engage language learners in real-world communication. We congratulate the 2014 fellows."
The Northeast Conference has long been committed to developing leaders for the profession from all instructional levels and languages. According to Rebecca Kline, NECTFL's director, "One finds past NECTFL leaders in a broad range of prestigious positions – they are university deans, program administrators, presidents of national associations, directors of media centers, and school district superintendents. The tangible support provided by SANS Inc. has allowed NECTFL to maximize the impact of its efforts by creating fellowships for future leaders at all levels in the profession."
SANS is a leading instructional technology provider for language learning programs – FL, ESL, and ASL. Technologies include the Sony Virtuoso™ and Soloist® digital language lab software suite and SANSSpace™ virtual language learning platform. SANS is committed to providing software solutions that address teaching and learning modalities and work within the IT framework of the school or government agency using it. For more information, visit www.sansinc.com or email moreinfo@sansinc.com.
The Northeast Conference on the Teaching of Foreign Languages serves educators in all languages, including classical, less commonly taught, and ESL, from Maine to Virginia, at all levels from kindergarten through university, in both public and private settings. NECTFL holds an annual conference for those involved with foreign language education, offering both professional development and the chance to network with colleagues. More than 1,000 attendees take advantage of 100 companies' exhibits and 200 sessions and workshops. Events include the recognition of award winners from both inside and outside the field. Past winners have been President Jimmy Carter, Sesame Street, musician Taj Mahal, and the late Senator Paul Simon. For further information about NECTFL, go to www.nectfl.org or email nectfl@dickinson.edu.
.
Virtuoso and Soloist are trademarks of Sony Electronics Inc. Sony Virtuoso and Soloist software incorporate SANS and Sony Technology. SANSSpace is a trademark of SANS Inc.