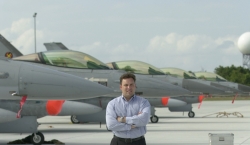 Fort Lauderdale, FL, March 28, 2014 --(
PR.com
)-- AeroGroup Incorporated (AeroGroup), a leading provider of tactical pilot training, has signed a teaming agreement with Aero Enterprises, a U.S. company that has performed business and various aviation related services to Czech and Slovakia government-commercial entities. AeroGroup has been approached and contracted by Aero Enterprises to provide expertise and services for efforts to assist (subject to approval of the U.S. Government) in proposals for the possible acquisition and re-transfer of F-16 aircraft and F-16 Pilot Training for the Czech Air Force and Slovak Air Force.
AeroGroup was selected because of its successful efforts regarding F-16 programs that it has been involved with over the years providing F-16 pilot training in Florida and Kleine Brogel Air Base, Belgium. AeroGroup was the first private commercial company to negotiate the purchase of F-16 aircraft from the Dutch Government in 2002. In 2003, AeroGroup was the first private commercial company to perform and host deployment for the Royal Netherlands Air Force F-16 training program in the Continental United States. Other F-16 support and training programs continued which included Italian and Belgian Air Forces. AeroGroup was contracted through the U.S. Air Force – Air Education and Training Command (AETC) to supply a deployed Mobile Training Team (MTT) of F-16 instructor pilots that were specifically familiar with the Mid-Life-Upgrade ("MLU") version F-16 aircraft that are operated by European Participating Air Forces (EPAF).
Mark Daniels, CEO of AeroGroup stated: "Of course we are encouraged by this development, but know that these efforts are subject to, and are dependent upon U.S. Government approval. This will need to be properly vetted through official channels with government representatives. It is not impossible and feel that if the right process is followed, that the acquisition and re-transfer of the F-16 to approved countries could be achieved as requested. Daniels further stated: "We (AeroGroup) look forward to assist in whatever capacity that would support F-16 acquisitions and further promote U.S. relations with our allies."
About AeroGroup:
AeroGroup has been supporting military pilot training, research and development programs since 1999. AeroGroup is a defense services company that has over the years, operated without incident and achieved a 98% mission completion rate. The company has operational experience with various tactical aircraft including; MiG-21, B-57, L-39, T-38, F-5, A-4, Hawker Hunter, Harrier, and F-16 Falcon. The company offers aircraft and training for airborne adversary support, flight training, threat simulation, electronic warfare support, aerial refueling, forward air control, range clearing, UAV research and testing.
For additional information, visit www.aerogroupinc.com.