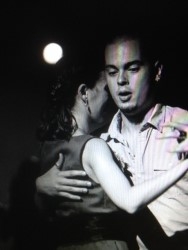 Hartford, CT, March 29, 2014 --(
PR.com
)-- Hartford Ballroom Argentine Tango Dance Instructor, Nate Evans, son of Connecticut dance legend, Michelle Evans, was invited to give a special seminar at the renowned New England Tango Academy in Boston.
Alla Lakov, the organizer of the Boston Argentine Tango Marathon, and long time supporter of the Argentine Tango community invited Mr. Evans to share his skill.
"We will miss Nate while he is away... he is a terrific and generous teacher, the Tango Community in Boston is fortunate to have him for their event," said Rita Paradise, a Connecticut based Artist and co-founder of Art Paradise (
artparadise.org
) and a regular at Evan's Argentine Tango dance class at Hartford Ballroom in Connecticut.
"Alla Lakov is the organizer of the event and she herself teaches in 5 different areas of Boston including the new Tuesday Practi-Milonga at the New England Tango Academy," says Nate Evans. "I love the spontaneity of Argentine Tango and the joy it brings students... I like to play with natural and normal movement combined with solid technique and body mechanics... normal fluid steps... and being playful... so that there is more interpretation and expression in our dancing.... I'm excited to teach in Boston but will look forward to returning to see and dance with my Tango students in Hartford Connecticut."
Tango is really fun and there is a lot to learn about oneself and others, I encourage my clients who are wanting to improve their relationships to take Tango Dance class, says Hartford Ballroom student Jim Hughes (
jimhughes.org
&
gracie-jiu-jitsu.com
).
Nate Evans can be found teaching Argentine Tango classes at Hartford Ballroom each Tuesday evening beginning at 7:00pm and at other times by appointment. Find out more at
www.hartfordballroom.com
and
hartford-tango.org
.