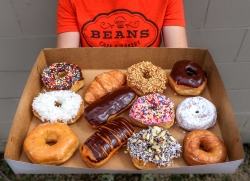 Dry Ridge, KY, March 28, 2014 --(
PR.com
)-- April Fools: Nacho Cheese filled Donuts & Ketchup filled Donut Holes!
Beans is a Dry Ridge Kentucky café and bakery which will be producing Nacho Cheese filled donuts and ketchup filled donut holes, proprietarily called "Bean Bites" just in time for April Fools day! Available while they last on April 1, 2014 from 5am.
On December 12, 2011, Beans opened its first cafe. Located at 20 Broadway in Dry Ridge Kentucky, Beans has revitalized a location once popular for foot longs, muscle cars and hanging out. Beans began with a limited menu of donuts made fresh daily, assorted pastries and superb Columbian coffee. Summer time brought bright colors & cool choices with rich milk shakes, hand dipped ice cream and old favorites like the classic Banana Split and iconic Root Beer float. The menu includes a lunch menu offering exceptional deli sandwiches, paninis, wraps, soups & salads.
Owner Richard Hayhoe commented "We wanted to give our loyal clientele a great prank for their friends. I think the ketchup filled Bean Bites will show some surprised expressions worthy of posting on Facebook!"
Hours of operation for Beans is 5am to 8pm Monday to Thursday and Friday – Saturday 5am – 9pm.