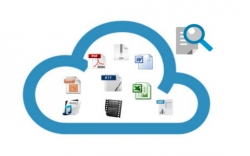 London, United Kingdom, April 03, 2014 --(
PR.com
)--
Storage Made Easy
today announced an
add-on connector
to its unified file sharing and file Discovery platform that enables the indexing and deep searching of documents whether they are stored behind the corporate firewall or on a public cloud such as Amazon S3, RackSpace, EMC Atmos, DropBox, SharePoint, or any of the 45 other cloud storage providers SME supports.
The Storage Made Easy solution is able to index file content irrespective of location and make it available for lightening fast search through a web interface, Mac, Windows or Linux desktops, or iOS, Android, BlackBerry, and Windows phone mobile devices.
Veritext
is replacing its legacy solution and using SME's technology as a foundation for Veritext Vault™, a secure legal document repository with deep search capabilities.
Storage Made Easy CEO Jim Liddle said, "Our company is gaining traction in companies that have a diverse portfolio of data that is stored internally and on the public cloud. The benefit of the SME solution is that it is data agnostic, it will work with a combination of whatever data you have, in the cloud or behind the corporate firewall, presenting it in a unified interface, without copying or moving the data."
Liddle continues, "The solution enables companies like Veritext to install a behind the firewall cloud control solution that aligns with regulatory and compliance guidelines for Protected Health Information and Personally
Identifiable Information for all stored files.
Liddle finished by saying, "The addition of our private and public cloud content search connector in essence gives companies their own private search engine across their own internal content regardless of where it is stored. Access is audited logged and controlled by strong permissions that can be integrated with Active Directory, LDAP, SAML, or Kerberos authentication."
Frank Licata, Veritext CTO, said, "The Storage Made Easy solution provides us with the security, governance and controls necessary to meet all of our regulatory and client requirements while enabling us to take advantage of economical storage solutions in the cloud. It also provides us with robust "deep" search capabilities across large quantities of data at a speed comparable to what an individual would normally experience using the most popular internet search engines – and it's available on the desktop and mobile.
About Storage Made Easy:
The Storage Made Easy
Enterprise File Sharing and Cloud Control solution
allows IT to regain control of "cloud data sprawl" by unifying private / public company data and privately used employee cloud data solutions into a single converged infrastructure. This can easily be managed and be used to set and enforce governance and audit controls for file access and sharing in addition to providing deep content search of indexed data.
This approach provided a solution to the "shadow IT" conundrum and makes it possible for companies to find a balance between the protection of corporate data and employee data by allowing businesses to monitor, secure and audit all data silos, be they private or cloud or company or employee, from a single access point.
More information can be found at www.StorageMadeEasy.com.
About Veritext:
Veritext is a full service court reporting company and the leader in deposition and litigation support solutions. For law firms and corporations, the company provides national coverage, state-of- the-art facilities, highly skilled court reporters, advanced technology, and unparalleled client service. Proprietary video, mobile and remote services combined with unmatched security (including HIPAA and PII compliance) ensure that Veritext clients have the best tools available and the confidence of working with the market leader.
More information can be found at www.veritext.com.