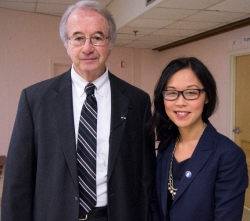 Elizabeth, NJ, April 16, 2014 --(
PR.com
)-- Trinitas Hosts Pain Killer and Drug Addiction Conference
Diverse Groups Explore Realities, Present Strategies
Addiction to opioid prescription pain killers is no longer confined to the inner city. Often, the start of such addiction may be only as far away as the family medicine cabinet and often ends up in heroin use. In 2014, increasing numbers of people nationwide have become addicted to pain killers, either intentionally or unintentionally.
The growing link between pain killers and heroin was explored at a conference hosted recently by Trinitas Regional Medical Center. Members of state government, law enforcement, the medical community, health care, community agencies fighting drug abuse, and families feeling the tragic results of addiction gathered to examine the issue from numerous viewpoints.
The conference, "Pills/Heroin = Overdose: Defining the Epidemic & Implementing Strategies to Reduce Overdose," featured an expert panel of authorities who probed the complicated aspects of this troubling epidemic. Panelists included John D'Angelo, OD, Medical Director of Emergency Services at Trinitas; Grace Park, Esq., Acting Union County Prosecutor; Philip J. Degnan, Esq., Executive Director, New Jersey Commission of Investigation; Pamela Capaci, Executive Director of Prevention Links, and Dominic Coppella, a parent dealing with the drug overdose death of a child. Jim Milo, New Jersey Division of Consumer Affairs, Prescription Drug Monitoring Program (PDMP); Joseph McTernan, Senior Director of Community and Clinical Services at Trinitas, and Michael Litterer, Director of Community Prevention at Prevention Links, discussed strategies to fight the epidemic.
James Lape, Senior Vice President of Behavioral Health & Psychiatry at Trinitas, (in photo: Courtesy of Capacity Images) pointed to the grim realities of the issue: "This is a national problem that very often starts in your medicine cabinet. Recently, there were 15 heroin overdoses in one day alone in Camden. But, heroin overdoses happen everywhere, even in suburban areas that were once immune."
Communities in New Jersey can attest to "devasting human consequences," according to Phil Degnan of the NJ Commission of Investigation. New Jersey recorded 843 overdose deaths in 2010, 1,026 in 2011 and 1,294 in 2012. Degnan reported that children as young as 11 years of age experiment with pills. "There is an unmistakable link between prescription pill abuse and heroin use.The speed of dependency is disturbing. Addicts transition so quickly from pain killers to heroin because heroin is a much cheaper alternative to pills," Degnan emphasized.
Union County's Acting Prosecutor, Grace Park, Esq., (in photo) presented sobering statistics. "There is a major focus now on abuse of prescription medication. Nationwide, deaths due to overdoses doubled in the last 10 years." Fighting the epidemic is complicated, she explained, because there's a legitimate use for pain killers. "Although we're not experiencing the staggering increases seen elsewhere in New Jersey and around the country, in Union County we're seeing 30 – 50 deaths per year, which is still too many. Victims are mostly white males, average age of 42, from both urban and suburban centers. In short, everyone is susceptible."
Pam Capaci of Prevention Links remarked, "It's too bad that this epidemic had to hit suburbia before the media took an interest." The medical community should be key players in addressing this issue. "We need to re-educate physicians. I had surgery and was prescribed 90 Percoset pills. I only took one pill and the rest sat in my medicine cabinet." While heroin is cheap to buy, addiction is expensive to treat and addiction rates rise before anyone realizes. "Parents and schools don't see it happening. You could literally wake up and find your child in a full heroin addiction before you even know he or she is abusing drugs." With Union County's great drug treatment infrastructure, "It's necessary now to educate physicians and parents. The abuser can be as close as your own child, not the stereotypical homeless person living on the streets."
The conference also put a human face on the epidemic. Dominic Coppella told of his 20 year-old son Chris who died of an overdose while at college. He described Chris as popular, smart, an animal lover and athlete who played baseball and tennis. "Some of his friends were fooling around with pain killers and Chris became addicted and moved on to heroin in no time. He and a friend died of overdoses on Nov 12, 2009." Echoing earlier comments, he said, "Sadly, so many parents find their children on a downward spiral like this and are helpless." Coppella and his wife have created a charitable foundation in their son's name. He presented a challenge: "We need to go beyond 'awareness.' We need treatment programs built on evidence-based standards, programs that are focused on the unique needs of younger people. Also, I believe there needs to be higher standards of education for counselors."
From the physician's perspective, Dr. D'Angelo from Trinitas, agreed that doctors need to recognize the "pill pusher problem. People are very savvy, they 'doctor shop' until they find the doctor who will give them what they want." Dr. D'Angelo admitted that prescribing is a dilemma. "We can't not treat your pain, but we do need to look at options like fewer pills or recommending different agents for treatment instead of immediately prescribing painkillers. At Trinitas, we are being much more prudent about prescribing of pain killers."
Jim Lape of Trinitas told the gathering that Trinitas is meeting the epidemic head-on. While treatment doesn't typically address the long-term needs of individuals, he detailed how Trinitas has adopted the state's Delivery System Reform Incentive Payment (DSRIP) which he believes "will make services less fragmented. At Trinitas, about 10 percent of all those admitted to our medical center for medical/surgical issues also have a history of drug abuse. The DSRIP project screens all admissions for drugs and suicide potential, which can go hand-in-hand." When appropriate, patients are recommended for a cooperative treatment program that Trinitas runs in collaboration with Prevention Links. To implement the DSRIP program, every nurse at Trinitas has been trained in assessing and responding to patients who may present evidence of drug abuse.
Joseph McTernan, Senior Director of Community and Clinical Services at Trinitas, discussed strategies on the front lines, including a valuable new drug used as an immediate treatment for drug overdoses. "With the recent push to expand the use of Naloxone that reverses the effects of opiates like heroin and oxycodone, emergency medical technicians, police officers, and family members of drug abusers can now administer it. It blocks the effects of opiates, stopping a potentially life-threatening overdose in minutes." Naloxone has had a positive impact nationwide with. "more than 180 public access Naloxone programs in the past 10 years that have trained over 100,000 people and successfully reversed more than 10,000 overdoses."
Michael Litterer of Prevention Links said the conference underscored "The tremendous collaboration here in Union County. Prevention Links, the Health and Wellness Coalition, and all the partners here today will continue to focus on increasing community awareness, reducing access to and availability of these dangerous substances, and implementing effective prevention strategies." With all sectors of the community taking part in prevention efforts with their local municipal alliance and the Health and Wellness Coalition, "We can work together to prevent the next drug overdose death."