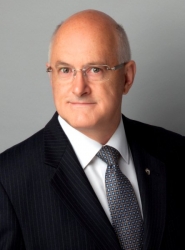 Newmarket, Ontario, Canada, April 22, 2014 --(
PR.com
)-- Brian D. Birchall, P.Eng. of Newmarket, Ontario, Canada has been included in the Strathmore's Who's Who Worldwide Edition for his outstanding contributions and achievements in the field of risk management.
About Brian D. Birchall, P.Eng.
Mr. Birchall has over 40 years' experience in the risk management field. He is the Global Mining Sector Leader for Aon Risk Solutions which is the largest global insurance broker providing risk management services, insurance brokerage, human resource and benefits consulting and outsourcing. He serves as an Account Executive for Toronto based mining companies and provides Global coordination & strategic advice directly with global mining clients or in collaboration with colleagues via his internal Aon global network of 90+ colleagues serving clients from 500 offices, in 120 countries. Mr. Birchall's experience includes global site risk assessment & risk mitigation, direct underwriting, strategic risk management, "risk-based" decision making, claims consulting, loss scenario analysis, benchmarking of insurance terms, seminar/conference presentations and strategic global broking for both construction and operations activities. He serves as a founding board member of MIG (Mining Insurance Group) London, UK, a recently formed global association of mining companies, risk managers, insurers, reinsurers, brokers, lawyers, forensic accountants and adjusters from 5 continents. He obtained a B.A.Sc. in Chemical Engineering from the University of Toronto in 1972, is a Professional Engineer and a Chartered Insurance Broker. Mr. Birchall enjoys the outdoors, cooking, travel, socializing and physical fitness. He can be reached at Brian.Birchall@aon.ca and makeitsoo4418@yahoo.ca.
About Strathmore's Who's Who Worldwide
Strathmore's Who's Who Worldwide highlights the professional lives of individuals from every significant field or industry including business, medicine, law, education, art, government and entertainment. Strathmore's Who's Who Worldwide is both an online and hard cover publication where we provide our members' current and pertinent business information. It is also a biographical information source for thousands of researchers, journalists, librarians and executive search firms throughout the world. Our goal is to ensure that our members receive all of the networking, exposure and recognition capabilities to potentially increase their business.