Jacksonville Law Firm Honored as a "Company with Heart"
High Profile Personal Victims' Rights Lawyer John Phillips Received Award for Charitable Giving.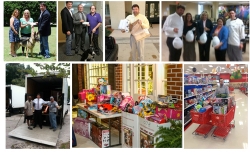 Jacksonville, FL, April 20, 2014 --(
PR.com
)-- Three years ago, Jacksonville-based 904 Magazine introduced its "Companies With Heart" honor with the simple goal of recognizing Northeast Florida businesses that view being a part of our community as more than just turning a healthy profit. They were looking for companies that considered being an active and involved part of a "healthy" community part of their profit motive.
No lawyer or law firm had ever won the award- until now. Victims' advocate and frequent news commentator John Phillips changed that in 2014.
How did they do it? For starters, John launched a campaigned on social media to give $1 to K9's for Warriors for every retweet on Twitter or like on Facebook. He has raised several thousand dollars, and frequently matched it, for local charities. He also participated in Jacksonville's Police Athletic League dodgeball tournament to raise and donate money for local youth programs and used his radio show to promote the show and bring out NFL athletes to compete. He and his office deliver donations to the Ronald McDonald House when they post that they needed supplies. And, when a local pup was stabbed several times, he "could not resist the opportunity to help this sweet, full of life, pup" by running to the aid of the Jacksonville Humane Society. The firm has donated turkeys at Thanksgiving time to the Clara Baron Mission. And, when the firm found itself knee-deep in extra office furniture, John decided to donate two big truck loads of great furniture to the Duval County Schools.
John gives his time as much as he writes checks. In December 2013, John participated in a fashion show for BEAM (Beaches Emergency Assistance Ministry-sustaining families for 27 years). He also ended the year, helping a Duval County Public School teacher raise over $10,000 for a class set of laptops, even rebounding for the teacher during his shoot-a-thon. Finally, the firm's annual Christmas Office Party includes a Toy Drive for Toys for Tots. John personally shops for the charity, filling two carts at Target this year and making sure each and every guest is greeted with a handshake or hug. Ultimately, van loads of toys were given and John received an accommodation from the Marine Corp Reserve.
Yet, the giving doesn't stop there. Each and every client is an opportunity to give back, to serve and to show passion and compassion. Jacksonville welcomed John over a decade ago and his is just paying the town he loves back. "This award is the most significant award I have ever gotten," John said, "I am beyond humbled.
John has also received the following accolades in 2013 and 2014:
- "Best Lawyer," by readers of the Folio Weekly,
- "Righteous Crusader," by readers of the Folio Weekly,
- "#1 Lawyer," by readers of Void Magazine,
- "Top Lawyer," by 904 Magazine,
- "Best Lawyer," by Jacksonville Magazine,
- "Who's Who in Law," by Ponte Vedra Recorder,
as well as rated:
- AV- Preeminent (the highest rating obtainable), by peers according to Martindale- Hubbell,
- 10 / 10, by Avvo,
- Top 100 Trial Lawyer, by the National Trial Lawyers Association,
- Top 40 Under 40, by the American Society of Legal Advocates,
- SuperLawyer, by Florida Super Lawyers.
For more information, contact:
John M. Phillips
The Law Office of John M. Phillips
Telephone: (904)-517-8903
Facsimile: (904)-508-0683
Email: jmp@knowthelawyer.com
http://www.knowthelawyer.com
http://www.jaxarrest.com
Contact
Law Office of John M Phillips
John Phillips
800-656-6952
http://www.knowthelawyer.com

Contact
Multimedia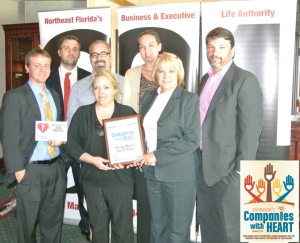 Law Office of John Phillips Accepts Companies with Heart Award