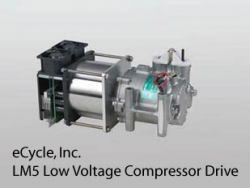 Temple, PA, April 25, 2014 --(
PR.com
)-- eCycle recently announced production of the LM5 Brushless Motor/Generator. A lighter, smaller version of its innovative SolidSlot™ motor/generator, the LM5 is an attractively-packaged, versatile brushless machine.
Sharing many design features with the popular SolidSlot™ brushless motor/generator, the LM5 measures less than 5 inches in diameter and serves both higher speed and lower power applications. Low voltage versions of the LM5 incorporate an integrated electronic commutator and can deliver up to 7kW, depending on model. The low voltage LM5 may also be used like a conventional DC motor, in that it can be operated directly from a battery or in conjunction with a DC controller.
"The LM5 brushless motor/generator delivers vastly greater performance over similarly sized AC and DC motors," said Michael Sharer, Vice President of Marketing. "Customers can realize all the benefits of a brushless motor, with a DC motor's ease of use," he explained. "Battery powered applications benefit from high efficiency and solid-state electronics that eliminate costly parts, such as contactors and relays."
High voltage versions of the LM5 may be operated with some variable frequency drives to serve numerous industrial applications. In 2013, eCycle entered into a teaming agreement with ABB, a global leader in this area. The combination of an ABB variable frequency drive and high voltage LM5 motor provides efficiency and power density previously unavailable.
The LM5 brushless motor/generator motor can support a broad range of uses, including electric superchargers for enhancing engine performance and diesel particulate filtration, hydraulic pump and air-conditioning compressor drives, high speed spindles, robotics and high efficiency alternators utilizing synchronous rectification.
About eCycle
Founded in 1996, eCycle offers a line of unique brushless motor/generators and power electronics manufactured in PA. Featuring innovative engineering, these products serve a wide range of applications across numerous industries. eCycle components have played key roles in gen-sets powered by a variety of fuels, including methane.